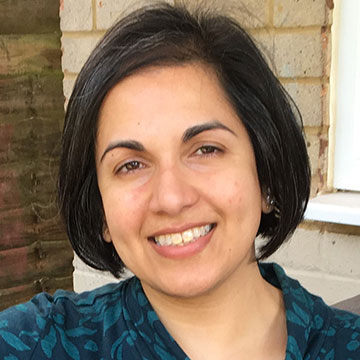 Dr Lubna Arif-Schmidt
"I love working at the Organic Research Centre because our research matters – if we want our children to inherit a healthy planet, we need to change the way we eat and produce food. Our research is all about generating smart, green innovations. We inspire and empower farmers to learn from nature's bag of tricks and find natural solutions to help agriculture thrive in a challenging modern environment."
Job title:
Supporter Engagement Manager
Role and responsibilities:
Sarah and I work together in the Supporters Team. We enjoy talking to people, companies and charitable trusts that share our ambition of good food for all – through better farming. Our job is to raise vital funds so more conventional and organic farmers benefit from the innovations that come from our research. Our supporters and funders are very important to us – we take the time to understand individual interests and value building long-term partnerships that achieve shared goals.
(Find out how you can support the ORC's work).
Interests outside of ORC:
In my spare time, I relax by baking and trying out new recipes. I love the fun and adventure of scouting – I'm constantly learning new things with my Beavers and Cubs. And more recently, the Organic Research Centre has inspired me, my husband, Ron, and two young children, Amber and Haris, to start growing our own vegetables!
Contact:
+44 (0)1488 646 239