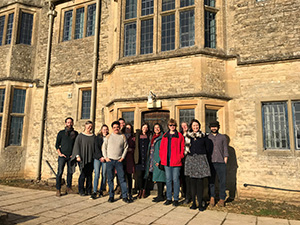 ORC staff at Trent Lodge, Jan 2020
Working with us
Paid employment
We have no vacancies at present
Volunteers
Volunteer Copywriter
We occasionally need creative and motivated volunteer (part-time and home-based) to produce short summaries of web-pages, PDFs, videos, podcasts and online tools for Agricology, a website providing practical information about sustainable farming for UK farmers and growers. More details here. We are full to capacity at the moment but do feel free to register your interest.
Charity trustees
If you would be interested in being a Trustee of the Charity, please get in contact with the Director, Stuart Rogers.
Internships
Our internship programme is closed until further notice
If you are looking for practical work opportunities on organic farms, we regret that we are not able to assist. Here are a few links worth trying:
Willing Workers On Organic Farms is a membership charity, teaching people about organic growing and low-impact lifestyles through hands-on experience in the UK;
The Soil Association runs the Future Growers scheme providing traineeships and apprenticeships. They also maintain a list of external job vacancies and opportunities available on organic holdings and at likeminded organisations across the UK;
Environment Jobs lists jobs and volunteering opportunities in this area.
Postgraduate research
Opportunities may exist for MSc and PhD research projects linked to our current research areas. Contact the relevant team leader for further information.
Participatory research
Much of our research involves participatory engagement of producers and other businesses - we currently have over 50 businesses working with us and have now established a Participatory Research Network to develop this work. If you are a producer, processor or other business interested in getting involved with research, please contact the Senior Programme Manager.
Partner organisations
ORC works collaboratively on projects and in its dissemination of results with a number of UK and European partners.
Europe-wide, ORC was a founding member of The European Consortium for Organic Plant Breeding (ECO-PB) – for more information see their website www.ecopb.org.
We are members of FQH – the International Research Association for Organic Food Quality and Health. www.organicfqhresearch.org.
ORC is also a partner in Organic Centre Wales.
ORC works closely with IOTA, who have undertaken collation and analysis of organic research. Reports with practical recommendations for use by advisers and others is available on www.organicadvice.org.uk/res_reviews_public.htm.
Organic e-prints provides a fully searchable archive for all organic research. To upload results and search projects Europe wide go to www.orgprints.org.