The Dean Organic Fund interest free loans for organic/ecological farmers, producers and food businesses
The Organic Research Centre is originating and managing a programme of small loans, all made out of the Dean Organic Fund. Our loans support small scale organic/ecological farmers, producers and food businesses.
These are unsecured loans without any interest cost to finance investments in equipment or stock or other forms of working capital (not land).
To date loan sizes have been between £5,000 and £25,000, repayable in instalments up to 5 years. We are able to lend companies, sole traders, community/social enterprises or charity owned businesses, including ones that are not certified organic but operate on principles closely aligned with organic principles.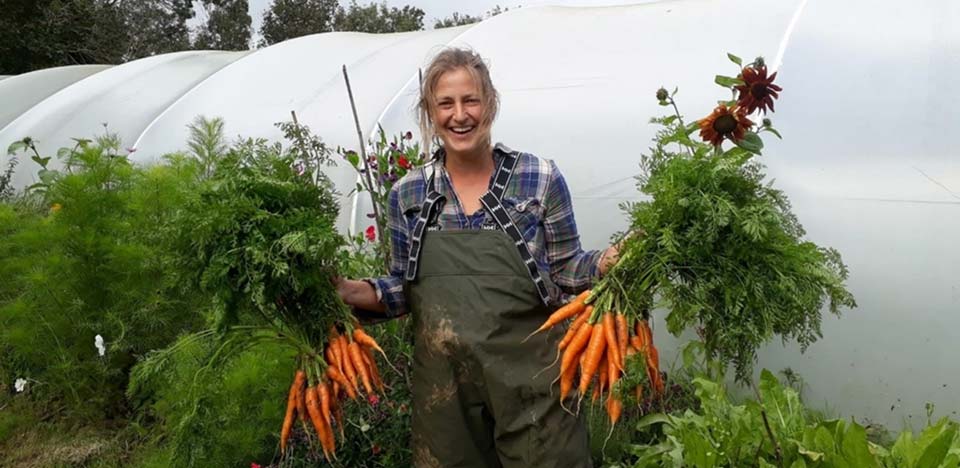 Trevelyan Farm Organics, a DOF beneficiary
What is the Dean Organic Fund?
The Dean Organic Fund was established following a large bequest of over £500,000 from the late Jennie Bone to the Organic Research Centre, accompanied by the transfer to the ORC of the former Dean Organic Trust which she established in 1993. Her idea was to support the conservation in the farmed environment by providing interest free loans to organic producers. ORC is committed to continuing this process with the new Fund.
Launched at the Oxford Real Farming Conference in 2018, Round 1 of Dean Organic Fund applications involved Organic Research Centre in making loans totalling £260,000. A wide range of businesses were supported, from crofts planning meat processing operations in Scotland to growers expanding their vegetable production and protected cropping facilities in eastern and southwest England. Other farms and food businesses used the funds to develop farm shops, nano-dairy production, vineyard management equipment, and organic chicken production systems.
Dean Organic Fund new loan programme
From June 2023 onwards, Dean Organic Fund will be accepting applications for new loans from its £450,000 revolving fund, managed by the Organic Research Centre.
Orchard Organic Farm, a DOF beneficiary
Applications will be considered on a first-come first serve basis depending on the funds available in the revolving fund, which is replenished by repayments from existing Dean Organic Fund borrowers dating back to the Dean Organic Fund first round of loans made in December 2018.
Decisions will generally be made whether it can lend to a Dean Organic Fund applicant (and the terms of the loan) typically within 2 months of receipt by Organic Research Centre of a complete application, subject to the provision of such adequate additional information as Dean Organic Fund may request. The Organic Research Centre reserves the right to request whatever information to support a loan application it may think appropriate.
Applicants must be UK-based companies, partnerships or individuals.
Applicants must be active in organic-certified and/or ecologically sound farming and food businesses.
Applications must be in support of businesses of the kind specified above.
Loan amounts will be between £5,000 and £25,000.
Loans will be interest-free and unsecured.
Loans will be repayable over periods of no more 5 years. Repayments will normally be in monthly instalments starting after the first year of the loan.
Loans must be used for transformational investment in training, equipment, stock, or other working capital, not to finance land or for short-term cashflow support or to cover normal operating expenses.
How the Dean Organic Fund helped me
For more help with organic farming and growing visit Farming Organically
Case Studies
Previous Dean Organic Fund borrowers
Who are the Dean Organic Fund businesses!
Find out who is a beneficary of the Dean Organic Fund. See a map of their locations.