Gothelney Farm
Fred Price has been farming at Gothelney Farm since 2007, which is a 250 acre family-owned mixed farm with a further 130 acres on a 6 year Farm Business Tenancy (FBT). The farm today is chemical free (5 years at home, 3 years on FBT land), with the focus being on the creation of a circular system where different aspects of the farm "make sense when only considered together" (to quote Fred). Those elements include a Field Bakery and Mill, an on-site butchery working in partnership with a 100% pastured beef grazing enterprise, alongside Fred's own work of pastured pigs, arable crops and plant breeding. The efficiencies and productivity they experience with this level of integration are really rewarding to see.
Last month Philippa Hall interviewed Fred to learn more about his wheat breeding work and how the Dean Organic Fund has enabled this project to develop with funds being used towards testing equipment to inform the selection process, and support organic and agroecological farmers, via the development of genetically diverse wheat populations, for years to come. Fred describes how he has been inspired by ORC's historic work on evolutionary breeding and he is working closely with the ORC Crops Research Team to develop his participatory breeding programme, including participation in ORC and Organic Arable's decentralised variety testing network (now being developed through the LiveSeeding project)
See also: Doing the Time: Working Towards the Decriminalisation of our Seeds – Groundswell 2023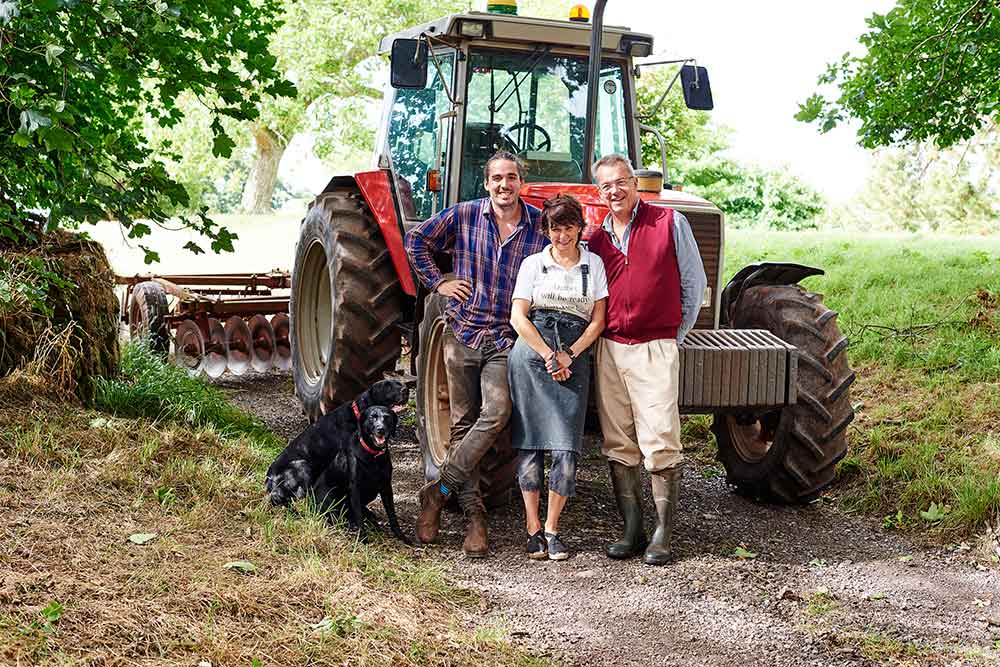 Albury Organic Vineyard
Albury is a small, family-run biodynamic vineyard located in the beautiful Surrey Hills and is run by Nick Wenman and his team.
Speaking about Albury and the Dean Organic Fund Nick says, 'the major challenge for vineyards in the UK is our variable weather conditions, which can lead to significant fluctuations in fruit yield and quality. This is particularly acute for organic vineyards with yields typically 20% less than conventional vineyards. Of the 750 commercial vineyards in the UK only around 20 are certified organic so there is no alternative supply of fruit in difficult years. It is important therefore that we do everything possible to ensure the maximum possible yield whilst maintaining quality. This is accomplished by various canopy management techniques, one of which is to trim the vines several times during the growing season. This encourages good fruit set, exposes the grapes to the maximum sunlight available and allows airflow around the grapes to prevent disease.
Up until we purchased the vine-trimmer with the funding from the Dean Organic Fund this operation has been performed by hand using hedge cutters, but this is inefficient and time consuming, which means that it isn't always done effectively. We first used the vine-trimmer in 2018 and it played a significant role in us being able to properly ripen what was our largest ever harvest. It also helped prevent disease by making sure that the canopy was not too dense. It is now an essential part of our annual management programme for the vineyard.'

---
Trevelyan Farm Organics
Trevelyan Farm Organics has been established since 2015 grown out of Greg and Iza's personal passion for organic produce having given up their urban lifestyle. The loan granted in 2018 funded the purchase equipment to support the developing business such as seed drill, irrigation, and netting.
'We work on our land balancing farm and family life is a constant battle and the loan helped us manage the super time-consuming jobs and be more productive and help us expand and be more profitable and grow to the business we have today'.
Trevelyan farm has grown to not just supply the farm shop, but now wholesale and supporting local shops and restaurants and now employing a part time seasonal worker.
'It is so important to us that we be part of something that solving issues addressed in farming'
Trevelyan farm is a located just off the A394, a little beyond Rosudgeon in Cornwall surrounded by conventional farmed land, and the contrast in the biodiversity is evident providing an oasis for birds and insects.
Trevelyan have plans to continue their growth and we wish Greg and Iza all the best for the future.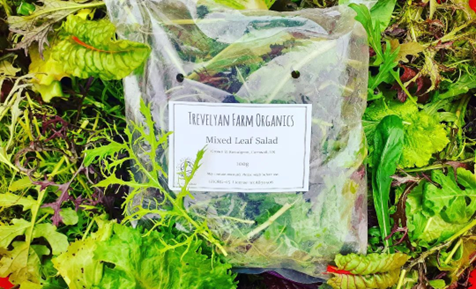 ---
Orchard Organic Farm
Orchard Organic Farm is our busy family farm, bought in 1991 and organic since 1997. We are lucky to own approximately 60 acres (and rent abit more) of fertile South Devon countryside. The business in it's current format was established in 2010 and has grown to now employ a great gang of six regular staff, with our numbers swelling in the summer with students.
We specialise in producing and packing organic eggs primarily for Riverford. Our business currently consists of:
6,000 organic laying hens in small flocks of approximately 500 hens with 1,000 chicks following on in our chick rearing sheds
our small herd of South Devon suckler cows graze the fields
one thousand apple trees are sold for eating or juicing
Recently we have begun to grow vegetables as part of the Riverford vegetable growing co-operative, making full use of the fertile soil that is uncovered when we move our mobile chicken sheds to their new positions with every new flock
This year we have planted the first of an ongoing project to plant 1200 hazel nut trees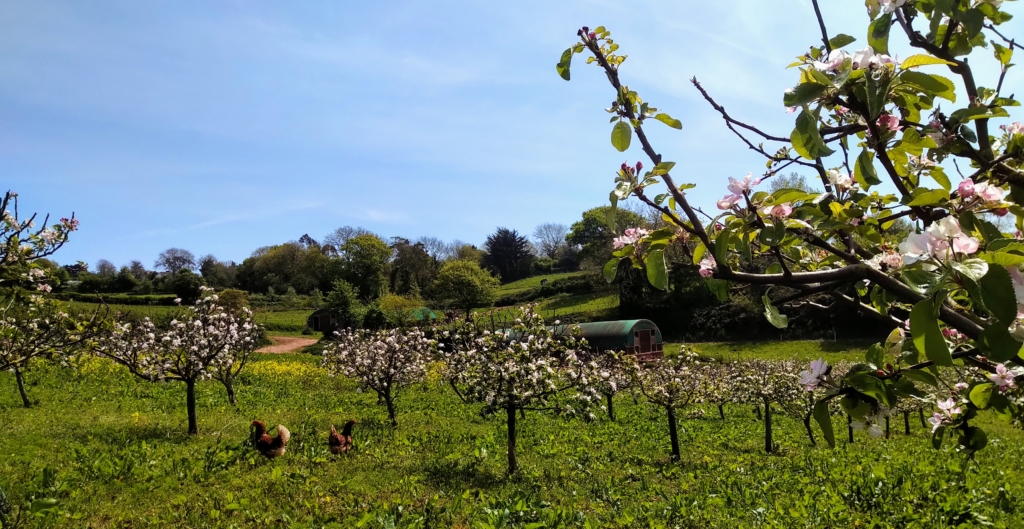 We applied to the Dean Organic Fund in 2018 after reading an article in the Soil Association magazine and were very fortunate to be accepted for a loan to enable us to fulfil two diversification project we had on the go but were struggling to fund from cashflow.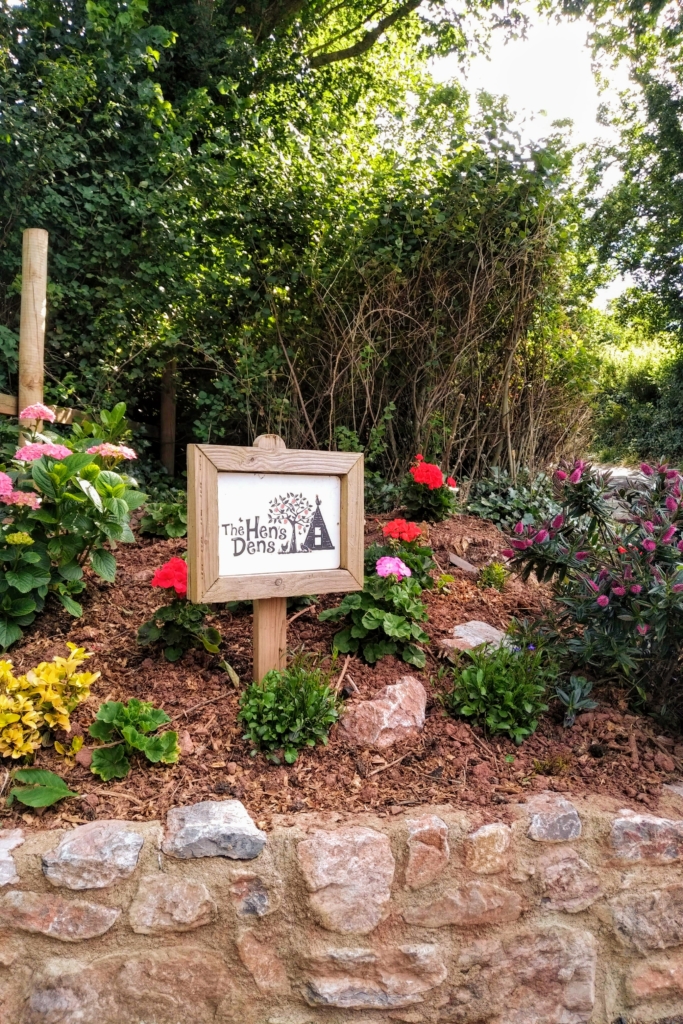 The Hen's Dens
The Hen's Dens are our timber tent camping / glamping pods. The Dens are our original chicken sheds built by us at the start of our organic laying hens enterprise, and which became redundant as we have expanded the business.
The Dean Organic Fund enabled us to finish the project and greet our first paying guest at the end of July 2018. The Hen's Dens are proving really popular and busy, we are really proud of our near 100% reviews and feedback, but it is important to keep evolving and improving, so we have added 'The Hen House', a communal barn space, as, even in our location, the sun doesn't always shine.
Vegetables
The Dean Organic Fund also enabled us to buy two key specialist items of equipment, our Pelican planter for plug plants such as leeks and the water wheel planter for planting courgettes and runner beans through plastic mulch.
The Dean Organic Fund loan has been a huge benefit to our business and we are very grateful for being selected and the support.
---
Grazing Matters
How the Dean Organic Fund helped Sally Hempsell with a conservation grazing enterprise
With the help of a loan from the Dean Organic Fund, I now run my own Conservation Grazing business in North West England which delivers dedicated grazing regimes to some of the finest nature reserves in Cumbria, Lancashire and North Yorkshire.
Income from the business is derived from a combination of area based payments, direct payments and cattle sales. My current operation is based on of rented land, mostly in the form of Farm Business Tenancies, all of which are organically certified to Soil Association standards. It comprises a mixture of land-use types within the disadvantaged, severely disadvantaged and moorland categories of the English Less Favoured Area. The cattle thrive on a diet comprising a tremendous diversity of plant species selected according to their own dietary needs and preferences across a range of semi-natural habitat types including woodland, upland heath and wood pasture.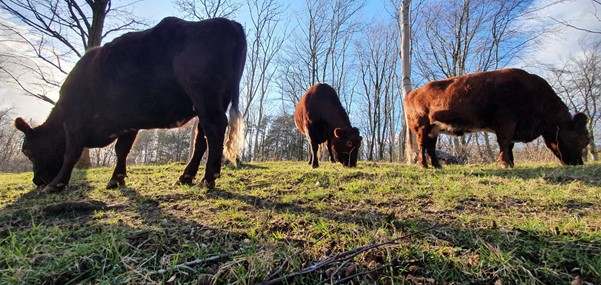 Grazing Matters evolved from a long-standing business – the Morecambe Bay Conservation Grazing Company, which has been successfully providing a mix of grazing regimes specifically tailored to conservation needs over 50 sites. Bill & Cath Grayson, the owners of this business, were looking to scale down their business and I took over the management of 10 of their sites which I manage with both cattle of my own and shared animals from their business. I purchase replacement animals reared within their system, thereby introducing young stock that demonstrates the ability to meet the demands of the grazing sites I now manages. The sites have their own specific conservation objectives but they all rely on grazing as a conservation management tool to achieve the desired habitat diversity and composition.
I applied for a loan of £25,000 from the Dean Organic Fund and was delighted to receive the full amount. The loan was instrumental in allowing me to set up the business, as the purchase of cattle has been and continues to be a major financial outlay. The loan has also allowed me to lease entitlements required to claim BPS on some parcel of land – which forms an important part of my income. I have also bought a 4WD vehicle to enable me to move cattle between sites as required.
After many years of teaching and working in the agricultural sector, I finally feel I have been introduced to a farming system that strikes a chord and encompasses my beliefs that farming and food production can work alongside the conservation of special habitats and biodiversity. It hasn't been an easy time to think about sharing this – but there is an exciting development through Natural England and their Wild Ingleborough project to invite schools and local interest groups to join us and discover the work that is going on to enhance nature and wildlife and how the cattle grazing can benefit this. I am hoping that this aspect is an area that can grow in time with the possibility of creating further links with local schools/colleges.
This year has been challenging for so many of us on so many different levels. I feel lucky that my business has proved to be robust and withstand these challenges. I have been able to carry on with my work and support myself throughout and provide small amounts of work for young local people. My biggest challenge was keeping on top of the gates that were left open and the fences that were repeatedly cut where members of the public were averse to handling them. I did have one or two escapes – but luckily no animals came to harm.
However, on a positive note, it has been great to see many more local people enjoying and exploring their local woodlands and nature reserves – a small number of animals are sold on a yearly basis though the Organic Livestock Marketing Co-op and/or to local restaurants and private customers. This year we experienced an increased demand for locally sourced organic meat which we were able to meet.
I am proud that the cattle are an important aspect of the land management in these areas and promote biodiversity and help to control scrub growth. I chatted to many more people over this last year on my 'rounds' and it is encouraging to see how interested they are in the role they play and the benefits they bring. Many folk have a real affection for the cows.
ff
How the Dean Organic Fund helped me
Read the stories of the fund's first beneficiaries
For more help with organic farming and growing visit Farming Organically