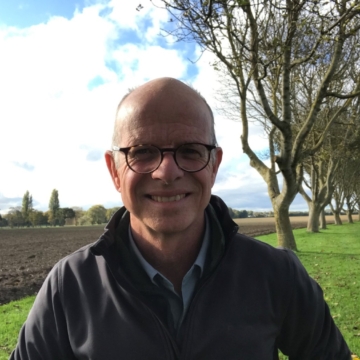 Dr Will Simonson
Job title:
Head of Research
Academic qualifications:
BA (Hons) Natural Sciences (Botany Part II): University of Cambridge
MSc Environmental Technology: Imperial College London
PhD Forest ecology and conservation: University of Cambridge
Role and responsibilities:
As Head of Research at the ORC, I am responsible for the management of ORC research, knowledge exchange and policy programmes.
Research interests:
In my career I have applied field-based, remote sensing and landscape-level approaches to the areas of climate change adaptation in agro-ecosystems, forest ecology, and biodiversity conservation. These strands come together in my current focus on agroforestry systems, an interest which began during from my 12 years in Portugal studying its rich wood pastures and orchards.
In all approaches to organic and agro-ecological farming, I'm committed to seeing science making an impact on the ground, through partnerships with farmers, policy-makers and other stakeholders.
Interests outside of ORC:
I love being in the great outdoors as much as I can, whether cycling, walking, running, or just enjoying nature – it's my relaxation and inspiration. Family holidays are often under canvas, and home time in the garden with its small flock of bantams.
Cambridge has been our home city for the last 10+ years, a stimulating mix of tradition and innovation. I keep in touch in various ways with the work of A Rocha, whose Christian motivation I share and explore in reading, writing and speaking.
Publications:
Valbuena, R., O'Connor, B., Zellweger, F., Simonson, W., Vihervaara, P., Maltamo, M., Silva, C. A., Almeida, D.R.A., Danks, F., Morsdorf, F., Chirici, G., Lucas, R., Coomes, D.A., & Coops, N.C.  (2020). Standardizing Ecosystem Morphological Traits from 3D Information Sources. Trends in Ecology and Evolution, 35(8): 656-667.
Green, E.J., McRae, L., Freeman, R., Harfoot, M.B.J., Hill, S.L.L., Baldwin-Cantello, W. and Simonson, W.D. (2020) Below the canopy: global trends in forest vertebrate populations and their drivers. Proceedings Royal Society B, 287: 20200533.
Simonson, W., Allen, H.D., Coomes, D.A.- (2018) Effect of Tree Phenology on LiDAR Measurement of Mediterranean Forest Structure. Remote Sensing, 10(5): 659
Allen, H.D., Simonson, W., Parham, E., Santos, E., & Hotham, P. (2018) Satellite remote sensing of land cover change in a mixed agro-silvo-pastoral landscape in the Alentejo, Portugal. International Journal of Remote Sensing, 39(4): 4663–4683.
Simonson, W.D., Allen, H.D., Parham, E., de Basto e Santos, E., & Hotham, P. (2018) Modelling biodiversity trends in the montado (wood pasture) landscapes of the Alentejo, Portugal. Landscape Ecology 33: 811–827.-
Simonson, W.D., Ruiz Benito, P. & Coomes, D. (2015) Monitoring above-ground carbon dynamics using multi-temporal airborne lidar: proof of principle from a Mediterranean woodland. Biogeosciences 12(17): 14739-14772.
De Frenne, P., Coomes, D.A., Simonson, W.D. Verheyen, K. (2014). Plant movements and climate warming: intraspecific variation in growth responses to nonlocal soils. New Phytologist, 202: 431–441.
Coomes, D.A., Burslem, D.F.R.P. & Simonson, W.D. (ed.s) (2014) Forests and Global Change. Ecological Reviews, Cambridge University Press, 473 pp.
Valladares, F., Benavides, R., Rabasa, S.G., Pausas, J.G., Paula, S., Simonson, W.D. & Díaz, M. (2014) Global change and Mediterranean forests: current impacts and potential responses. In: Coomes et al. (ed.s) Forests and Global Change.
Simonson, W.D., Allen, H.D. & Coomes, D.A. (2014) Applications of airborne lidar for biodiversity assessment. Methods in Ecology and Evolution, 5(8): 719–729.
Simonson, W.D., Allen, H.D. & Coomes, D.A. (2014) Overstorey and topographic effects on understories: evidence for linkage from cork oak (Quercus suber) forests in southern Spain. Forest Ecology and Management, 328: 35–44.
Simonson, W.D. & Allen, H.D. (2014) Cork oak (Quercus suber) forests of western Mediterranean mountains: a plant community comparison. Ecologia Mediterranea, 40(1): 35–
Simonson, W.D., Allen, H.D. & Coomes, D.A. (2013) Remotely sensed indicators of forest conservation status: Case study from a Natura 2000 site in southern Portugal. Ecological Indicators, 24: 636–647.
Simonson, W.D., Allen, H.D. & Coomes, D.A. (2012) Use of an Airborne Lidar System to Model Plant Species Composition and Diversity of Mediterranean Oak Forests. Conservation Biology, 26(5): 840–850.
Contact:
+44 1488 646232
(Ext : 6232)