Grazing Matters – how the Dean Organic Fund helped Sally Hempsell with a conservation grazing enterprise
With the help of a loan from the Dean Organic Fund, I now run my own Conservation Grazing business in North West England which delivers dedicated grazing regimes to some of the finest nature reserves in Cumbria, Lancashire and North Yorkshire.
Income from the business is derived from a combination of area based payments, direct payments and cattle sales. My current operation is based on of rented land, mostly in the form of Farm Business Tenancies, all of which are organically certified to Soil Association standards. It comprises a mixture of land-use types within the disadvantaged, severely disadvantaged and moorland categories of the English Less Favoured Area. The cattle thrive on a diet comprising a tremendous diversity of plant species selected according to their own dietary needs and preferences across a range of semi-natural habitat types including woodland, upland heath and wood pasture.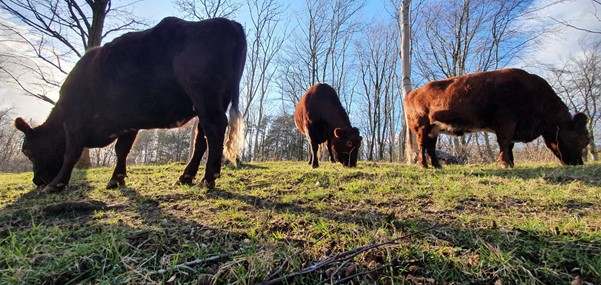 Grazing Matters evolved from a long-standing business – the Morecambe Bay Conservation Grazing Company, which has been successfully providing a mix of grazing regimes specifically tailored to conservation needs over 50 sites. Bill & Cath Grayson, the owners of this business, were looking to scale down their business and I took over the management of 10 of their sites which I manage with both cattle of my own and shared animals from their business. I purchase replacement animals reared within their system, thereby introducing young stock that demonstrates the ability to meet the demands of the grazing sites I now manages. The sites have their own specific conservation objectives but they all rely on grazing as a conservation management tool to achieve the desired habitat diversity and composition.
I applied for a loan of £25,000 from the Dean Organic Fund and was delighted to receive the full amount. The loan was instrumental in allowing me to set up the business, as the purchase of cattle has been and continues to be a major financial outlay. The loan has also allowed me to lease entitlements required to claim BPS on some parcel of land – which forms an important part of my income. I have also bought a 4WD vehicle to enable me to move cattle between sites as required.
After many years of teaching and working in the agricultural sector, I finally feel I have been introduced to a farming system that strikes a chord and encompasses my beliefs that farming and food production can work alongside the conservation of special habitats and biodiversity. It hasn't been an easy time to think about sharing this – but there is an exciting development through Natural England and their Wild Ingleborough project to invite schools and local interest groups to join us and discover the work that is going on to enhance nature and wildlife and how the cattle grazing can benefit this. I am hoping that this aspect is an area that can grow in time with the possibility of creating further links with local schools/colleges.
This year has been challenging for so many of us on so many different levels. I feel lucky that my business has proved to be robust and withstand these challenges. I have been able to carry on with my work and support myself throughout and provide small amounts of work for young local people. My biggest challenge was keeping on top of the gates that were left open and the fences that were repeatedly cut where members of the public were averse to handling them. I did have one or two escapes – but luckily no animals came to harm.
However, on a positive note, it has been great to see many more local people enjoying and exploring their local woodlands and nature reserves – a small number of animals are sold on a yearly basis though the Organic Livestock Marketing Co-op and/or to local restaurants and private customers. This year we experienced an increased demand for locally sourced organic meat which we were able to meet.
I am proud that the cattle are an important aspect of the land management in these areas and promote biodiversity and help to control scrub growth. I chatted to many more people over this last year on my 'rounds' and it is encouraging to see how interested they are in the role they play and the benefits they bring. Many folk have a real affection for the cows.
Find out more about the Dean Organic Fund and the latest round of funding here