BDAC soil seminar
Event Date : March 11, 2017
to 16 March 2017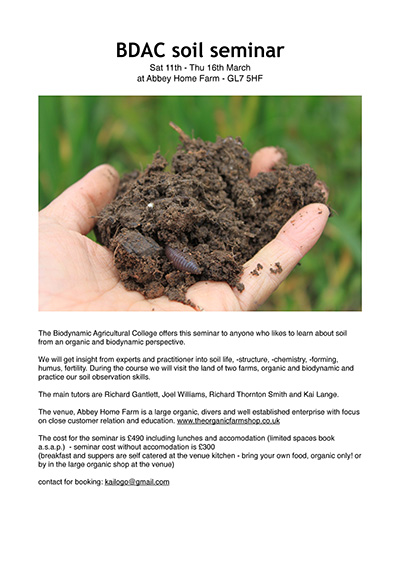 at Abbey Home Farm nr Cirencester (GL7 5HF)
This short intensive course will include insights into soil, life, structure and chemistry with particular attention to forming humus and supporting fertility. The course will include classroom sessions, active observation and farm visits (to organic and biodynamic farms).
Tutors: Richard Gantlett, Joel Williams, Richard Thornton Smith and Kai Lange.
Cost: £490 with accommodation and lunches (there is the possibility to prepare your own breakfasts and suppers at the venue kitchen – bring your own organic food!)
or £300 without lunches and accommodation
Accommodation is limited, please book soon!
For booking or more information, please contact: klange@bdacollege.org.uk