Farm Woodland Forum annual meeting at ORC
Event Date : May 18, 2015
Bookings are now closed for this event.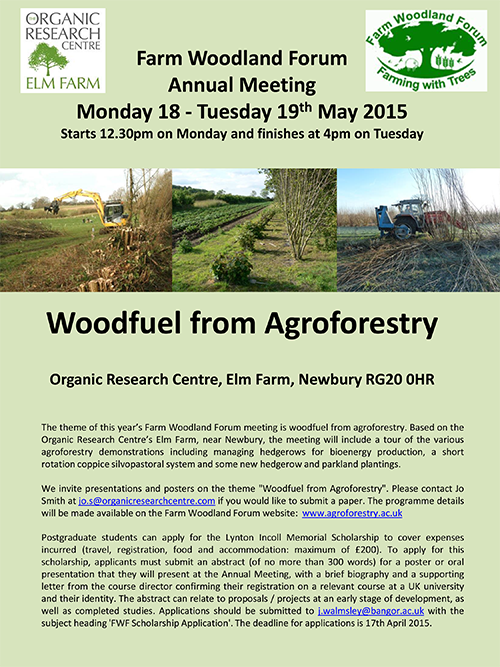 Woodfuel from Agroforestry
This year's annual meeting of the Farm Woodland Forum will be held at the Organic Research Centre, Elm Farm near Newbury, Berkshire, starting at 12.30pm on Monday 18th May and finishing at 4pm on Tuesday 19th May.
The theme is Woodfuel from Agroforestry. Based on the Organic Research Centre's Elm Farm, near Newbury, the meeting will include a tour of the various agroforestry demonstrations including managing hedgerows for bioenergy production, a short rotation coppice silvopastoral system and some new hedgerow and parkland plantings.
Presentations and posters on the theme "Woodfuel from Agroforestry" are invited. Please contact Jo Smith. The programme details will be made available on the Farm Woodland Forum website: www.agroforestry.ac.uk
Postgraduate students can apply for the Lynton Incoll Memorial Scholarship to cover expenses incurred (travel, registration, food and accommodation: maximum of £200). To apply for this scholarship, applicants must submit an abstract (of no more than 300 words) for a poster or oral presentation that they will present at the Annual Meeting, with a brief biography and a supporting letter from the course director confirming their registration on a relevant course at a UK university and their identity. The abstract can relate to proposals/projects at an early stage of development, as well as completed studies. Applications should be submitted to j.walmsley@bangor.ac.uk with the subject heading 'FWF Scholarship Application'. The deadline for applications is 17th April 2015