Intercropping field lab
Event Date : January 30, 2018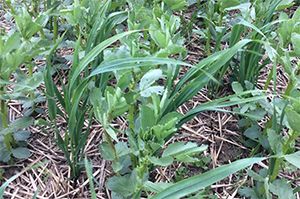 When? The morning of January 30th 2018, meeting begins at 10.00.
Where? The Organic Research Centre, Elm Farm, RG20 0HR.
What? An opportunity to develop research questions, identify synergies among members of the Innovative Farmers Intercropping group, and ultimately determine what will be tested in the field in 2018.
If you are applying for funding from the DIVERSify project for on-farm trials and demonstration of 'plant teams' then please bring along your applications (you can download a copy of the application form here). Charlotte Bickler (ORC) and Laura Tippin (LEAF) will run a surgery to help with the process and explore trial design. Applications need to be submitted to us for the 2018 season by February 9th so this will hopefully be a great opportunity for you to refine your plans and share ideas. Please let charlotte.b@organicresearchcentre.com know if you plan on attending, and do not hesitate to get in touch with any further questions.
View programme for the event here
We will finish before lunch, however if you would like to join us for lunch at a local pub then let Charlotte know and she will add you to the table booking.