Non-inversion tillage techniques
Event Date : September 25, 2014
Field lab at Yatesbury House Farm, Wiltshire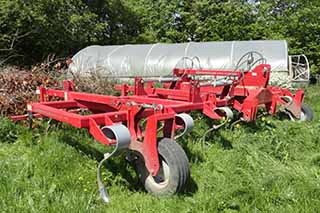 The Kongskilde Virboflex
The aim of this field lab will be to demonstrate how Non Inversion-Tillage (NIT) techniques using a variety of methods compare to standard cultivation methods (ploughing) in terms of:
energy use and labour input (time)
agronomic effects (yield)
ecological effects (weeds, soil, regeneration)
The research base, provided by ORC, will come from the TILMAN-ORG and OSCAR projects. The host farmer Richard Gantlett sold his plough in 2004 to focus on alternative methods of cultivation. They use a modified Lemken Thorit with Bourgolt shears for sowing with simultaneous weeding, a Kongskilde Virboflex is used for shallow cultivations and a Maschio Pinocchio for remedial deep lifting. The field lab will be based on the farm which was a case study in the IOTA review of NIT and how the methods used have evolved.
Outcomes for attendees:
A greater understanding of the current research and thinking on NIT techniques.
Plans for their own farms/holdings.
A chance to feed into research ideas and needs around NIT.
Draft programme:
10.30: Arrival and coffee
11.00: Introduction to the farm and NIT techniques used (Richard Gantlett)
11.15: Farm tour including looking at NIT machinery
13:00: Lunch
14:00: Key findings from the Tilman-org project – Sally Westaway and/or David Wilson (unconfirmed)
14.15: Energy use in NIT – (Results from Duchy Trial and Yatesbury)
14.30: Non-Inversion Arable Cropping (Andrew Trump)
14.45: Questions and discussion
The team: Richard Gantlett – farmer leader, Sally Westaway – facilitator, Robbie Girling/ Bruce Pearce – scientific input
Booking