Soil Management Seminar
Event Date : March 31, 2014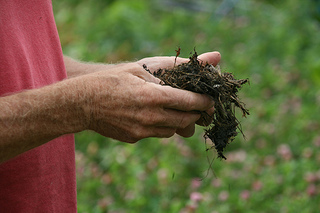 Soil management seminar for growers and gardeners, those working on land, students and apprentices
Venue: Tolhurst Organic Market Garden, Hardwick Estate, Whitchurch-on-Thames, Reading, RG8 7RD
10am-4pm
Few people realise just how dynamic and wonderful the soil is beneath their feet. Get down to real basics, and back to earth, with this popular and stimulating seminar run by organic experts, Iain Tolhurst and Roger Hitchings. The seminar covers all aspects of soil, from its creation to its final use. It encourages the delegate to revere and cherish this precious resource.
The seminar is a participative workshop, with trainees joining in, sharing their ideas and questions with their group; and working in groups as part of the day's activities. At the end of the day you will go home with a much better understanding of what your soil is, how it works, and how you will be able to ensure it is still there for the future. We will be looking at soils, so if you bring a sample along, we may get to have an in-depth look at it.
Course cost (local and organic lunch included):
Reduced price for eligible participants (see below) £50 + VAT
Full price for participants not-eligible for funding £100 + VAT
On-line booking is available here
Please check information on discounts below before booking.
You can also register directly and pay by cheque, BACS or credit card by contacting Gillian Woodward.
100% fee reduction available for young people from Berkshire
If you are 26 or under, resident in Berkshire and training (student/apprentice) to or starting a career in agriculture, you may qualify for one of our Gordon Palmer Memorial Trust bursaries. Please do NOT complete the on-line registration form, but e-mail Gillian Woodward with details of your address, age and circumstances to check eligiblity.
50% fee reduction for English producers and others obtaining a living from agriculture or agricultural products
Eligibility includes producers and employees of producer groups, supply chain businesses, direct retailers, small consultancy businesses, but not multiple retailers, government departments, agencies or public bodies including universities. Participants must be living/working in England.
To benefit please download, complete and sign the funding application form (243 kb pdf file) and send to Gillian Woodward at ORC. You can still register and pay on-line.
This project has been supported through the Rural Development Programme for England, which is jointly funded by Defra and the European Union