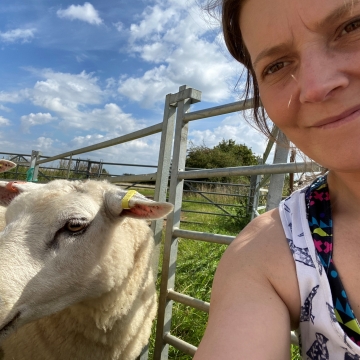 Nicola Noble
Job title:
Livestock and Sustainability Researcher
Academic qualifications:
BSc (Hons) in Biology (University of York)
MSc in Sustainable Food Production (Aberystwyth University)
Role and responsibilities:
My main role is in adapting and developing ORC's Public Goods (PG) Tool for a targeted focus in organic ecosystem services indicators. At the moment this is being edited and used in the Defra Organic Test & Trials project, a follow on 2-year project from the 2020 ELMS Test & Trails. This current work is focused on assessing public good delivery on organic farms.
Previous work includes editing the Public Goods Tool as part of the FoodLevers project. I previously worked on the EU horizon 2020 funded project 'Innovation for sustainable sheep and goat production in Europe' (iSAGE)
In addition to my role at ORC, I also work for the National Sheep Association, as Project Manager
Research interests:
Due to my background in animal health and welfare, my main research interests are focused on livestock sustainability. I've a keen interest in research that builds on the principles of sustainable agriculture, helping to achieve current and future net zero targets.
I'm also passionate about farmer led research and increasing the opportunities for farmer-to-farmer knowledge exchange, as it's a great way for sharing useful tools and skillsets alongside increasing the ability to make informed decisions on farm.
Interests outside of ORC:
As a mum of two tiny humans and the owner of 100-ish ewes I don't get much time to relax. However, being a shepherdess allows me to share my research passions with my personal interests in animal health and welfare, while enjoying the great outdoors. I'm also very at home on the stage, performing in regular musicals as part of a local amateur dramatics' society.
Publications:
Impact of Flock Health Clubs Nicola Noble, Francesca Occhiuto, Fiona Lovatt, Marion Johnson, Wendy Jones, and Jasmeet Kaler Livestock 2020 25:6, 301-307
Contact: