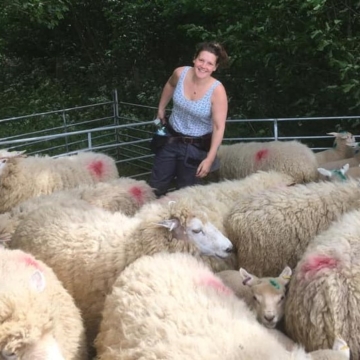 Nicola Noble
Job title:
(Interim) Livestock and Sustainability Researcher
Academic qualifications:
BSc (Hons) in Biology (University of York)
MSc in Sustainable Food Production (Aberystwyth University)
Role and responsibilities:
Research interests:
Due to my background in animal health and welfare, my main research interests are focused on livestock sustainability. I've a keen interest in research that builds on the principles of regenerative agriculture, working proactively towards a more sustainable future.
I'm also passionate about farmer led research and increasing the opportunities for farmer-to-farmer knowledge exchange, as it's a great way for sharing useful tools and skillsets alongside increasing the ability to make informed decisions on farm.
Interests outside of ORC:
As a mum of two tiny humans and the owner of 100-ish ewes I don't get much time to relax. However, being a shepherdess allows me to share my research passions with my personal interests in animal health and welfare, whilst enjoying the great outdoors. Luckily, the two small beings love the 'baa baas' just like me… so hopefully there are two mini farmers in the making.
Publications:
Impact of Flock Health ClubsNicola Noble, Francesca Occhiuto, Fiona Lovatt, Marion Johnson, Wendy Jones, and Jasmeet Kaler Livestock 2020 25:6, 301-307
Contact: