Cereals 2014
Event Date : June 11, 2014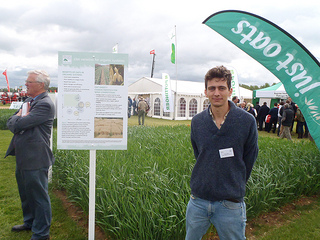 Nick Fradgley at Cereals 2013
to 12th June 2014
Cereals is the leading technical event for the UK arable industry with over 64ha of stands and live demonstrations including Crop Plots, Working Cultivations, Sprays and Sprayers, Post-Harvest Technology, Business Area, Potatoes and Renewables.
500 leading suppliers come together to update nearly 26,000 visitors on the very latest products, ranging from seeds to sprayers, crop varieties to cultivation equipment, fertilisers to finance.
Nick Fradgley will be representing ORC with this poster on Competitive oats for integrated weed
management and organic rotations on the Senova/Just Oats stand L-1236-12 near visitor entrance 2.
Download Just Oats leaflet Oats: the heart of your three crop option