Harvesting woodfuel from your farm
Event Date : April 16, 2015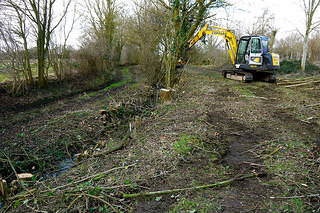 Organic Research Centre, Wakelyns Agroforestry, Fressingfield, Suffolk IP21 5SD 10am till 3.30pm
The aim of the day at Wakelyns Agroforestry will be to explore and discuss the feasibility of harvesting woodfuel from existing linear landscape features such as hedgerows and from new agroforestry systems. The day will feature contributions from Rob Wolton (Devon Hedge Group), Sid Cooper (Forestry Commission) and Kathleen Bervoets (Agrobeheercentrum eco2, Belgium) and showcase the results from the hedge harvesting machinery trials conducted by The Organic Research Centre. The workshop will include a farm tour so please bring appropriate footwear and clothing!
This workshop is being organised as part of the EU funded project TWECOM 'Towards Eco-Energetic Communities' . The aim of this project is to demonstrate that local short chain systems using biomass from landscape elements for local energy or heat production is economically feasible whilst taking into account any ecological, social and cultural constraints.
Booking
We are asking for £10 + VAT (£12 Inc. VAT) to cover lunch and refreshments. Online booking is available here. Alternatively, you can complete the booking form and return it to Gillian Woodward, The Organic Research Centre, Elm Farm, Hamstead Marshall, RG20 OHR.
Places are limited and will be allocated on a first come first served basis.
Download directions to Wakelyns here