National Organic Cereals 2014
Event Date : July 1, 2014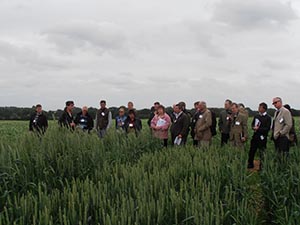 ORC's Nick Fradgley at the wheat population demo plot NOC 2013
Rectory Farm, Great Brickhill, Milton Keynes, Bucks MK17 9AF
Practical advice from FBT to CAP, use of green manures, cover crops, soil science, up-to-date market analysis, farm walks and trial crops will be at the fore during the premier farmer-focused event in the organic calendar, OF&G's National Organic Cereals 2014.
This year's event is being hosted by OF&G licensee Tom Turner at Rectory Farm, near Milton Keynes,
Buckinghamshire. Tom's farm has been run by his family for 13 generations and is a great example of a mixed enterprise, with cereal crops, cattle and a range of diversifications.
National Organic Cereals is the largest on-farm event in the calendar aimed squarely at organic farmers and those in their supply chains, from seed companies to millers, feed merchants, retailers and more.
ORC will be there and some of our wheat populations will feature in the OSP demo plots.
More information here