Research and innovation for commercial smallholders
Posted on 14th January 2014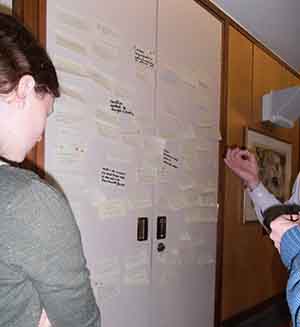 ORC led a workshop at the January 2014 Oxford Real Farming Conference on Research and innovation for commercial smallholders. As speakers Iain Tolhurst, Kate Collyns and Zoe Wangler battled through the floods to get there it is not surprising that topics related to climate change and adapting to extreme weather conditions were amongst those raised by delegates in the interactive session on research needs!
The Oxford Real Farming Conference has developed as a response to the farming establishment, in the guise of the Oxford Farming Conference, presenting business as usual and failing to discuss the things that really matter: good food; a secure and beautiful countryside; plenty of satisfying jobs etc. It has been a similar story with research for small producers, who could play a part in delivering an alternative vision, but have been marginalised. The workshop aimed to address the concerns of small producers and try to establish what their research needs are. Part of this is a change of mindset; to get away from thinking of 'what research should be done' to taking responsibility for ensuring it happens by engaging directly as 'farmer-researchers'.
Iain Tolhurst of Tolhurst Organic Produce gave a presentation (915kb pdf file) on the research, development and trials that have taken place over the last 25 years at Hardwick, starting from HDRA (now Garden Organic) running trials on green manures that played a part in convincing him of the value of green manures in the rotation to the the use of woodchip in growing media and variety trialling
Kate Collyns of Grown Green talked about how she learnt about horticulture as a Soil Association apprentice and then started her own business. The lack of information out there and the steep learning curve that this involved, prompted her to write a book: Gardening for Profit – From home plot to market garden– Kate has also been involved with several field labs and gave her wish list for research topics. Download her presentation here (324 kb pdf file)
Zoe Wangler introduced the Ecological Land Co-op which was set up five years ago to provide affordable sites – to purchase and rent – for ecological land based livelihoods. Their initial focus is on creating residential smallholdings for ecological agriculture.
Their proposal for their first project – three smallholdings – was met with scepticism from local farmers and planning officials as to the economic viability of smallholding and so they prepared case studies of 8 holdings on 10 acres or less. This included mixed holdings, horticulture, and specialist producers in mushrooms and seeds. They were very surprised by how welcome the research was. Zoe said "It seems to me – and I'd be interested to hear how smallholders feel about this – that as a group we'd benefit from the production of more case studies."
They have now sold their first three holdings. Over the next five years they are committed to monitoring and reporting on a variety of indicators including:
Incomes and employment generated by the smallholders
Changes in soil nutrients, soil moisture, depth, structure and microbiology; and
Changes in habitat and biodiversity
They are monitoring the sites principally so that they can evaluate the extent to which they are delivering on their objectives and the impacts of conversion from conventional to small-scale low-input mixed farming and horticulture. Finally, they are considering whether to measure changes in soil carbon and changes in productivity. Zoe said that they are interested in querying Defra's assumption to exclude small-holdings from the new agricultural support schemes (as outlined by Nic Lampkin in the Agroecology Bill session on the previous day), through the assessment of productivity.
The interactive session came up with a number of topics, from delegates, on post-it notes. Some of these might be research topics, others might be topics where the knowledge is known or the research has been done already, i.e. where training or knowledge dissemination is needed. What was clear was that there was a lot of knowledge in the room and networking and peer to peer learning is very important. ORC will be exploring ways of taking this forward through our Participatory Research Network, Field Labs, training programme and forthcoming information hub.
Download the report, listing the research topics identified and prioritised in the workshop 100kb pdf file