Soil nutrient management
Event Date : October 23, 2019
A workshop for farmers, growers and advisers on soil nutrient and fertility management in organic and agroecological farming. The workshop will be run by Mark Measures Associates and held at Abbey Home Farm, Cirencester in Gloucestershire.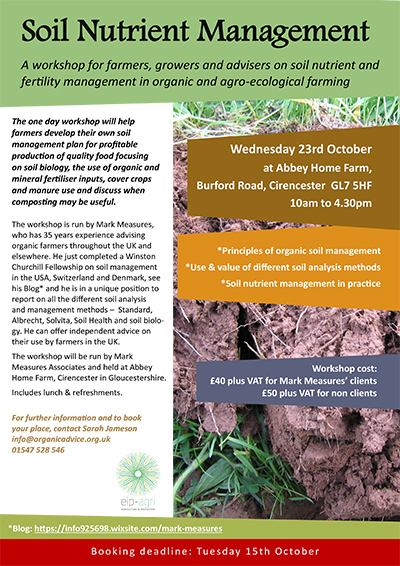 The one day workshop will help farmers develop their own soil management plan for profitable production of quality food focusing on soil biology, the use of organic and mineral fertiliser inputs, cover crops and manure use and discuss when composting may be useful.
The workshop is run by Mark Measures, who has 35 years experience advising organic farmers throughout the UK and elsewhere. He just completed a Winston Churchill Fellowship on soil management in the USA, Switzerland and Denmark, see his blog and he is in a unique position to report on all the different soil analysis
and management methods – Standard, Albrecht, Solvita, Soil Health and soil biology. He can offer independent advice on their use by farmers in the UK.
Includes lunch & refreshments
Workshop cost:
£40 plus VAT for Mark Measures' clients
£50 plus VAT for non clients
For further information and to book your place, contact Sarah Jameson info(at)organicadvice.org.uk
01547 528 546