Wake up to Organic
Event Date : June 13, 2018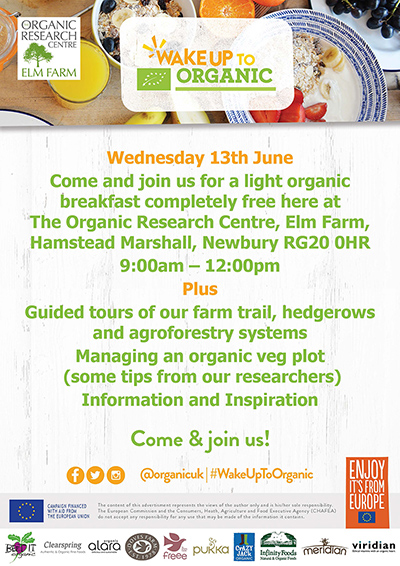 <
Independent retailers all over the UK will be dishing up free organic mini breakfasts as part of their Wake Up To Organic events. The aim is to show how easy it is to switch to an organic breakfast, and to showcase the fabulous range of organic food and drink that your local independent stores and cafés offer.
WakeUp2Organic_EF.jpg
ORC will be hosting an event on 13th June, which aims to showcase some of the fascinating research that is carried out on the charity's farm at Hamstead Marshall, which aims to develop ways to help organic farmers become more resilient and profitable whilst reducing their environmental impact. Researchers will be on hand to offer expert hints and tips on how to manage an organic veg plot as well as providing information on new research such as growing trees with crops, improving soil fertility, growing wildlife-friendly crops and the problems of dealing with pests and diseases in an organic crop rotation.
Rob Chappell, from the Organic Research Centre said, "We are delighted to host this event on our farm as part of 'Wake Up To Organic'. There is a growing interest in organic food production, and so this is a fantastic opportunity to offer our hospitality to all those who are curious about what we do and how we do it. We will be offering guided tours of our farm trail, including the hedgerows and agroforestry systems as well as offering a delicious free organic breakfast. We hope it will provide visitors with lots of useful information as well as inspiration to learn more about organics."
The 'Wake Up To Organic' event is on Wednesday 13th June at the Organic Research Centre, Elm Farm, Hamstead Marshall, Newbury, Berkshire RG20 0HR and will run from 9.00am to 12.00 noon. There is no need to book a place. But do call Rob Chappell for further details.
We will be hosting a breakfast at Elm Farm from 9-12.30. Come and join us if you can!