Government support needed for agroforestry
Posted on 18th June 2018
Parliamentary wake up call for putting trees at the heart of agriculture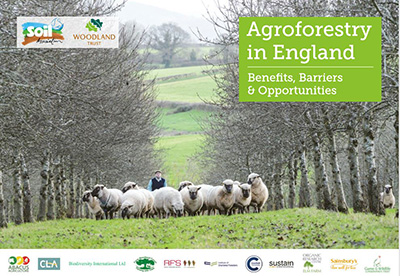 Stephen Briggs from Abacus Agriculture and a partner in the EU AFINET project together with the Organic Research Centre, was a key speaker at the well-received parliamentary launch of a new report this week, which was calling for more Government support for integrating trees into agricultural systems.
The report, Agroforestry in England: ,Benefits, Barriers and Opportunities was launched at an All Party Political Group for Agroecology, chaired by Baroness Barbara Young.
Addressing policy makers, researchers and conservationists at the event, Mr Briggs, spoke passionately about his own experiences on his farm in Cambridge, where he is successfully incorporating trees into his cropping systems.
He said, "This forward-thinking report sheds light on how post-Brexit, Government can really fly the flag for British farmers by helping them to integrate trees into their cropping and livestock systems. The UK ranks the lowest for woodland density in Europe but this could be significantly increased by incorporating agroforestry into the farmed landscape.
"At the moment forestry and agriculture are treated as separate entities and this is extremely limiting for both practices. Once we leave the EU, UK policy should help drive agricultural innovation as well as giving farmers the freedom to integrate multiple activities including trees on their land making them more resilient and profitable in the face of climate change, and environmental pressures."
He continues, "The meeting in parliament, once again, highlighted that Government is lagging behind business and Europe in its support of agroforestry. Agroforestry has the potential to deliver on a wide range of policy objects in England, A key recommendation of the new report is that Government needs to develop, fund and train a new generation of farm and forestry advisers to break the divide between forestry and agriculture."
Dr Jo Smith from the Organic Research Centre says, "Our experience through the EU-funded AFINET project shows that farmers are hungry for knowledge on agroforestry and want to know how to integrate trees in their arable cropping and livestock systems. UK policy is therefore missing a trick in this respect."
She adds, "However, through the EU's AFINET project, which is led in the UK by the Organic Research Centre with Abacus Agriculture in collaboration with the Farm Woodland Forum, we are able to support farmers with knowledge on the design and management of agroforestry systems and offer advice to help them overcome perceived obstacles. The project is currently organising various on-farm workshops, which will focus on gathering together existing expertise, identify knowledge gaps, promote innovative practices and find solutions."
To see a successful agroforestry scheme in action, David Rose of Home Farm, Screveton, near Nottingham is hosting a practical workshop on his farm on behalf of the Organic Research Centre and Abacus Agriculture on Monday 16th July from 12.00 to 5.00pm.
David Rose has both a silvoarable system with apples and cereal, as well as a newly established edible woodland which he plans to graze. Over the last six years he has planted 11,000 trees and is currently planting 16 acres of a new agroforestry edible woodland project.
His silvoarable scheme comprises rows of apple trees within the arable rotation in a bid to nourish and protect the soil, improve crop yield, attract pollinators, encourage local wildlife and create an additional source of produce. In the edible woodland, the trees will provide cost-effective shelter and shade for the livestock which will help to boost performance and animal welfare. In addition, the trees will provide income through fruit and nut sales, nature trails, forest schools, recreation and environmental funding.
Dr Smith says, "This inspiring free event on David's farm is designed to help answer questions from those interested in starting their own agroforestry scheme. Attendees are welcome to bring along a map or an aerial photo of any proposed project, which can be discussed on the day. The aim of the workshop is to offer information, support and ideas to help establish future successful agroforestry projects."
To book a place for this agroforestry workshop on the 16th July please click here or contact Dr Jo Smith
Posted in News and events, Policy, Press Releases