Considering Implementing Agroforestry on Your Farm? 
Posted on 30th August 2023
Join the Testing Agroforestry Advice and Guidance Scheme to help test different forms of advice and guidance for Defra.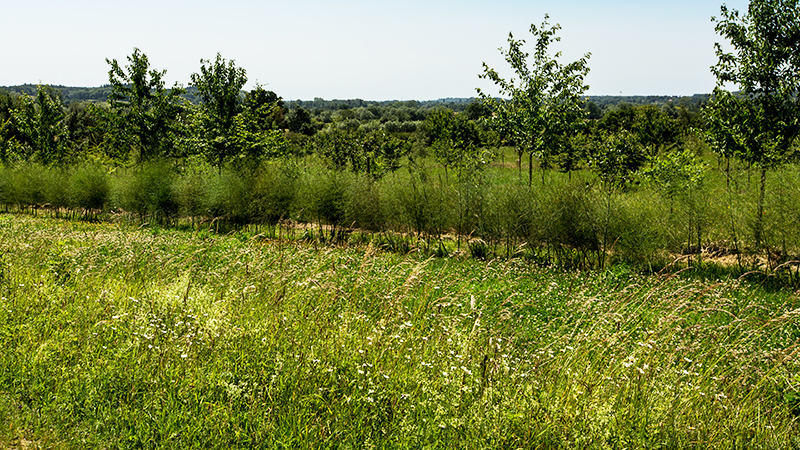 Agroforestry has an important yet currently unrealised role to play in tackling the nature and climate crisis whilst enabling farming to adapt to climate change and continue to produce food.  In the January 2023 update, Defra confirmed that they will pay for actions to encourage the creation and management of agroforestry systems within the environmental land management schemes. However, it is widely accepted that a significant barrier to farmers taking up agroforestry is a lack of knowledge and expertise.  This was a key finding in the Defra ELM Test 106 on agroforestry that was completed earlier this year.  The Woodland Trust having been a partner in this Test and delivered their own pilot agroforestry scheme for the last decade would confirm this.   
To address this barrier, the Woodland Trust is leading the delivery of a 2nd Agroforestry ELM Test funded by Defra. The test is being delivered in partnership with the National Trust and the Organic Research Centre.  The aim is to test a range of advice and guidance structures with farmers as they go through the process of designing and then applying for funding for their own bespoke agroforestry scheme.   
Why should farmers get involved?
By getting involved you will be able to help influence the design of the advice and guidance provision provided via the environmental land management schemes.
You will be given an opportunity to receive tailored advice or guidance on designing an agroforestry system for your farm and support for applying for funding to implement it.
How much will it cost?
There will be no cost to participate in the Test and you will receive payment as a contribution for your time.
What commitment is needed?
You will be asked to commit to completing the advice and guidance programme you are allocated and to produce a design for an agroforestry system. You will also be required to give feedback on the process via a 1:1 Teams interview and attend a webinar to give general feedback. You will NOT have to commit to implementing your scheme, however, support will be available to help you identify funding sources and we do hope most farmers will want and be able to plant their schemes.
How do I get involved?
Please send an email to plant@woodlandtrust.org.uk detailing your farm size, location and type, a brief outline of the type of agroforestry you are interested in and your agroforestry experience to date. Or come and talk to us at the Agroforestry Show on 6th and 7th September 2023. ORC will be on stand #15.
What happens next?
Once we have received an Expression of Interest from a farmer the Woodland Trust will be in touch to discuss the project in more detail with you.
The Test starts at the beginning of September and we will be recruiting farmers both owner occupiers and tenants and designing the testing process over the coming weeks. Phase 1 farmers will go through the advice testing process and produce an agroforestry design plan between 1 Jan 24 and 30 April 24. During May we will undertake 1:1 feedback interviews and the online workshop. By 31st July your designed schemes will have been assessed and if required support given to identify funding. A 2nd phase of farmers will follow with recruitment for this being completed by 31st July 2024. The Test is due to complete by 31st May 2025.