Dean Organic Fund interest free loans
Posted on 8th July 2018
The second round of applications for the interest-free Dean Organic Fund loans, with a closing date of Monday 17th September 2018, has now opened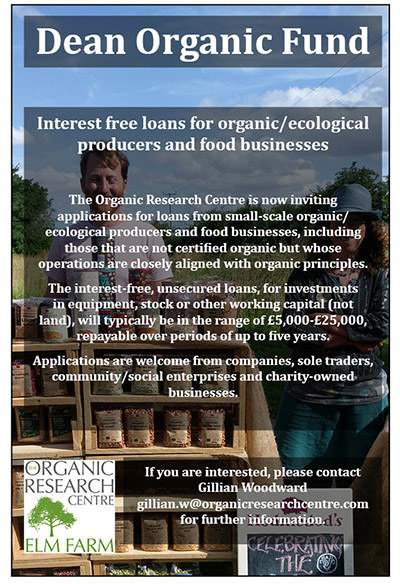 The Dean Organic Fund was established following a major bequest from the late Jennie Bone to ORC, along with the transfer of funds from the former Dean Organic Trust which she established in 1993. Her idea was to support the conservation of wildlife in the farmed environment by providing interest free loans to organic producers. ORC is committed to continuing this process with the new Fund.
Launched at the Oxford Real Farming Conference this year, the new DeanOrganic Fund providing interest free loans to small-scale organic/agroecological producers and food businesses, attracted a lot of interest.
After the first round of applications closed in March 2018, 13 were approved and loans totalling £260,000, and ranging from £6,000 to £25,000, have been paid out. A wide range of businesses have been supported, from crofts planning meat processing operations in Scotland to growers expanding their vegetable production and protected cropping facilities in eastern and southwest England. Other farms and
food businesses are using the funds to develop farm shops, nano-dairy production, vineyard management equipment, expansion of organic granola production, and organic chicken production systems.
We have been very encouraged by the wide range of applicants and the quality of the applications, and we hope this standard will be continued. Many applicants benefited from taking advice on their business plans, and we are working with a number of like-minded organisations to try
to secure funding to provide further assistance for business advice and mentoring.
The next round of applications is now open with an application deadline of Monday 17th September 2018, and applications to be determined and agreements finalised by the end of November. In the second round, we expect to be lending £100-150,000. We will be progressing to a six-monthly cycle of applications (deadlines in March and September each year) with about £100,000 lent each time.
If you are interested in applying, and would like further information, please contact Gillian Woodward for an application pack