Farmers and researchers are teaming up in the first ever farmer-led study into the benefits of agroforestry
Posted on 22nd February 2021
Farmers in the UK, for the first time, are getting the chance to co-design research to determine the benefits of integrating more trees on their farms. A farmer-led agroforestry project launching this month will spend the next twelve years investigating whether the practice is a viable way to address the climate and nature crises while maintaining productive farmland.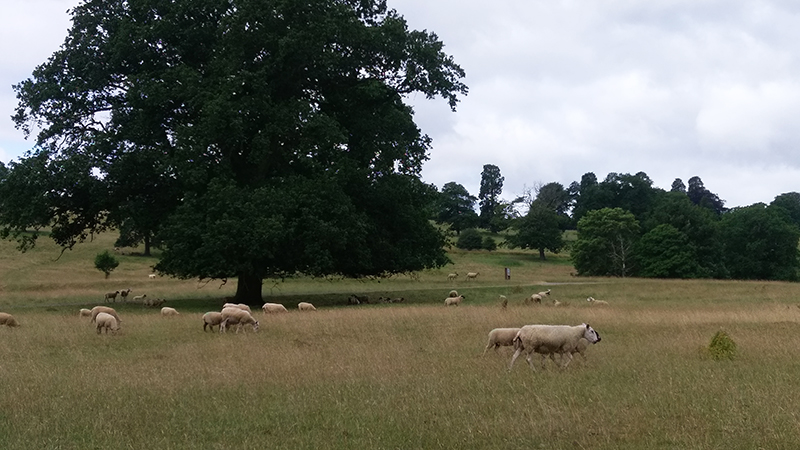 The new field lab, involving seven farms in Devon, will be the largest participatory research project to date looking at silvopasture – a practice of integrating trees and livestock. The farmers, who produce beef, sheep, venison and dairy, are expecting the trees to bring a range of benefits to their farming systems by enhancing the natural processes that underpin sustainable food production. Research to date suggests that soil health is expected to improve, with increased soil carbon, earthworms, fungi and other indicators of soil biology. It is also hoped to improve livestock health and welfare through providing shelter and additional nutrition, diversify farm income by providing extra crops of fruit, nuts and timber and boost the nutritional value of forage.
Agroforestry is recognised by researchers as contributing to a range of public goods such as carbon sequestration, increased biodiversity, water quality and flood mitigation. But robust multi-year research on working farms has yet to be accomplished – making this project a key milestone in convincing farmers and land manager across the UK to take up the innovative practice. The data will also help farmers who are already pursuing agroforestry to benefit from the upcoming changes to UK agricultural policy helping them to be rewarded for a suite of public goods which are yet to be fully measured.
Three different planting designs are being trialled, tailored to the farm and the balance they wish to strike between open grazing and tree cover. The research, will see farmers plant a mix of twelve native tree and shrub species, including oak, downy birch, aspen, alder and willow. The trees are chosen for their ecological associations with the local landscape, but also for the nutritional and medicinal properties they can provide to livestock, and their ability to flourish in an open woodland environment.
This Innovative Farmers field lab is an exciting farmer-led collaboration across leading farming and research organisations. The Farming and Wildlife Advisory Group (FWAG South West) are coordinating the group and worked with The Woodland Trust and the farmers to develop silvopasture planting designs. FWAG South West will be monitoring biodiversity on the farms with Rothamsted Research North Wyke researching changes to soil biology, health, in particular soil carbon, and the Organic Research Centre (ORC) providing expertise in silvopasture design and research to optimise livestock health and welfare. The group was awarded a grant from Innovative Farmers, and farmers have received advice on scheme design including species selection and substantial support from The Woodland Trust which has provided all the trees and guards for the field lab. Alongside the practical on-farm trials, Rothamsted is replicating all three of the farms' planting designs at North Wyke to take in-depth data within a more controlled environment.
Baseline soil sampling by Rothamsted has already begun on the farms with tree planting commencing at the end of February supported by The Woodland Trust. FWAG will start the biodiversity monitoring in May alongside ORC's livestock assessments. All the details and findings from the field lab will be shared openly on Innovative Farmers website as the trial progresses.
Dr Lindsay Whistance from Organic Research Centre says;
"The presence of trees on pasture offers a wide range of benefits to livestock including body care, shade and shelter, browse and medicinal benefits. These benefits can translate into better animal welfare and higher productivity through reduced mortality rates of youngstock and lower feed bills. Trees once played an integral part in livestock management and, as interest in silvopastoral systems increases year on year, this Innovative Farmer's Field Lab offers us an opportunity to update our understanding of these benefits for different livestock in UK conditions."

Dr Lindsay Whistance

One of the farmers, Andy Gray who rears animals for a direct sales meat box company said
"With big changes in agricultural policy ahead, farmers are now looking into the regenerative practices we can do on our farms to prepare our businesses to benefit from public money for public goods. For me, agroforestry is one of these changes. I'm incredibly keen to get agroforestry taken up by more farmers because of the environmental benefits it brings. The list of the benefits you can get are undeniable; soil health, water quality, shelter for animals. It also provides an extremely good marketing opportunity as it helps us show our customers that we are doing our bit.
This field lab is about building knowledge and the understanding for the wider farming community. By doing this we can prove to our neighbours that it works so they then have the confidence to adopt it. Farmers trust farmers and the more conversations you have, the more you learn, the more you develop new ideas."
Hen Curtis an organic livestock farmer involved in the field lab says;
"We've been organic livestock farmers for 30 years and part of the reason for that is that we want to farm with the environment in mind. But with the growing public desire to reduce the impact that meat has on the environment it's clear that we need to do more. That's why I wanted to be part of this agroforestry field lab so we can investigate more ways of capturing carbon on our farm and increasing the biodiversity at the same. Getting groups of farmers together to discuss ways to improve their farms is always beneficial."

The Woodland Trust Outreach Adviser Mick Bracken, who designed the planting schemes, said:
"The Woodland Trust has always been a big exponent of agroforestry. It benefits nature, climate and farming yet has still to reach its full potential. Seventy per cent of UK land is farmed but only three per cent of that land practices agroforestry. This research will go a long way to exploring how trees can be incorporated on to farmland for maximum benefit and hopefully lead to more farmers taking it up as a viable way of boosting productivity while also addressing the climate and nature crises."
Dr Martin Blackwell who is leading the soil monitoring research at Rothamsted says;
"It is always a challenge to demonstrate impact when on-farm innovations are introduced. That is particularly true with long-term interventions like silvopasture. However, using our expertise in soil monitoring we hope to able demonstrate in a relatively short time frame that this approach can positively affect soil health. Being able to accurately quantify the size and speed of these changes will be particularly important as the UK farm payment system moves away from direct subsidy towards rewarding environmental enhancement."
Coordinator of the field lab, Luke Dale-Harris who works for FWAG South West says:
"We know that building trees into livestock systems can help serve so many of the agri-environmental benefits that farmers and policymakers are looking for, from greater resilience in the face of changing weather patterns through to varied nutrition and medication for livestock. The challenge is identifying how silvopasture systems can be most effectively designed, and precisely what benefits they can provide. This trial will give us some answers to help farmers and policymakers design and implement silvopasture schemes for the future."
Dr Kate Pressland from Innovative Farmers says;
"With the climate crisis already upon us, farmers need to adapt and fast track innovation to prepare themselves for an uncertain future. For farmers looking to take on agroforestry, the knowledge gained in this field lab will offer real guidance to support their decisions. We are seeing a wave of agroforestry being implemented more widely across the UK. But it is clear we need robust studies into the benefits of having trees integrated into the farm, and we must ensure the research reflects the needs of farmers. Co-designing projects with farmers from the start is key to ensuring better relevance of the evidence produced and widespread adoption. We're excited that the Innovative Farmers programme has inspired the bringing together of an impressive set of partners to support these seven farmers."
Findings from the field lab will be made publicly available on the Innovative Farmers website.  You can follow progress from this field and others at www.innovativefarmers.org

To find out more about planting trees on your farm visit www.woodlandtrust.org.uk/plant
Read more on ORC's agroforestry programme here