Iain Tolhurst awarded MBE for Services to Agriculture
Posted on 27th June 2023
Many congratulations to long-standing organic grower Iain Tolhurst who has been recognised in the King's Birthday Honours list with the award of Member of the Order of the British Empire (MBE) for services to agriculture.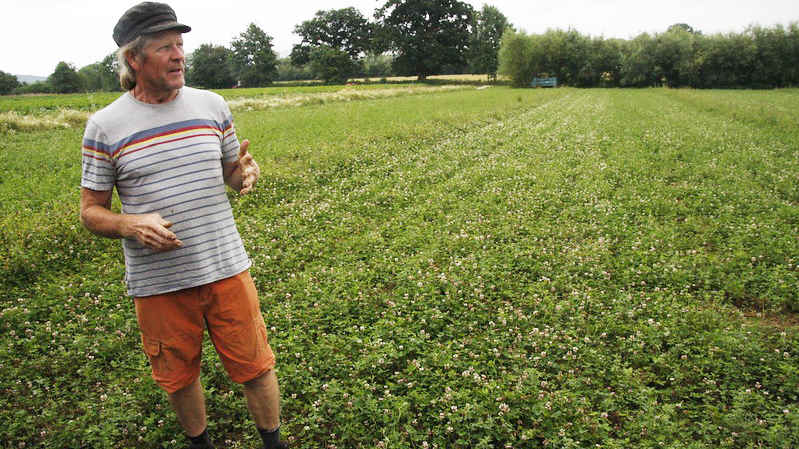 It is well-deserved. Iain Tolhurst (Tolly) has been a beacon, a shining light, illuminating the path for organic growers in the UK since he started farming organically in 1976 in Buckinghamshire. A true pioneer, he started from a non-farming, working class background in a time when there was no advice available, and the organic movement was in its infancy.
Phil Sumption said: "There can't be any organic or agroecological grower in the UK who hasn't been influenced or inspired by Tolly, and if they haven't been they and their farms are poorer for it! I can't think of anyone more deserving of wider recognition and honour in our movement today, than Iain Tolhurst."
Tolly first pioneered organic strawberry production in Cornwall, and, since 1988, has established the best working example in the UK, through the multiple award-winning Tolhurst Organic Produce at Hardwick in Oxfordshire, of how vegetables can be produced sustainably and regeneratively enhancing biodiversity and soil health. Tolly is 'mostly self-taught,' farming based on experience, but always learning and open to new ideas. It is this open-ness, combined with his innovative nature that has led to numerous partnerships with research projects and institutions (HDRA/Garden Organic, Elm Farm/Organic Research Centre, Reading University, Innovative Farmers, AHDB, Coventry University) over the years. The value of research in real farming conditions cannot be under-estimated. Topics researched have included use of legumes and green manures, soil health, functional biodiversity, intercropping, carbon footprint of horticulture, health concepts, alternatives to peat in growing media, agroforestry and applications of composted and ramial woodchip. Many of these topics have been ahead of their times and gaining relevance and importance, all the while.
Tolly has said that "Unless knowledge is shared it has little value to anybody except perhaps the practitioner" (ORC Bulletin No 118 Winter/spring 2015) and that sets him apart, his relentless enthusiasm to share his knowledge with others. That has taken many forms; the number of growers who have been trained and worked at Hardwick to go onto start their own holdings, the number of farm walks and study tours and training days that he has hosted, from the UK and overseas, the number of growers he has advised through conversion as part of his work as a horticultural adviser with the Organic Advisory Service and the Defra-funded Organic Conversion Information Service, formal and informal mentoring to young growers. He has spoken at many conferences in the UK and internationally, and more recently webinars and through video and audio channels. He has also advised governments in the Caribbean, Moldova and Iceland on organic production.
Tolly has written two books and innumerable articles on organic growing, and issues beyond the farmgate. He also shares his wisdom with the young (and not so young) through social media groups and forums, always rooting his responses in the principles of health, ecology, fairness and care that are integral to the organic movement, allied with practical common sense. 
Source: Organic Growers Alliance (OGA)
See Agricology profile of Iain Tolhurst