Organic Agriculture and the Sustainable Development Goals
Posted on 25th September 2019
Organic can be a solution to achieving SDGs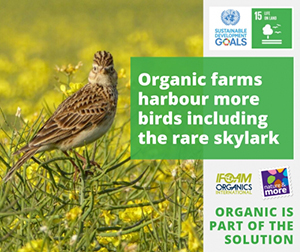 If we are to maintain sustainable food systems for future generations and tackle the many challenges facing our planet, including the climate crisis, governments would be wise to embrace organic farming practices. This is the main message a recently published report sends to world leaders currently gathering for the SDG Summit in New York.
Global agriculture and food systems have reached a crossroads. Although our current food system has boosted agricultural productivity over the past decades it has also had a detrimental effect on the environment and society. Soil degradation, biodiversity loss, water pollution, climate change, ocean dead zones are just a few of the challenges that we are confronted with.
To combat these and other major issues, in 2015, the global community came together and launched the 2030 Agenda for Sustainable Development; a plan of action based on 17 Sustainable Development Goals (SDGs), which are becoming increasingly important in determining the sustainability agenda of the planet.
Commissioned by Dutch organic specialist Eosta, the new report Organic Agriculture and the Sustainable Development Goals shows examples of how our food systems can have a direct impact on our chances of achieving these goals. It has been launched at a time when Heads of State and Government gather at the United Nations Headquarters in New York to follow up and comprehensively review progress in the implementation of the 2030 Agenda for Sustainable Development and the 17 SDGs.
According to Louise Luttikholt, Executive Director of IFOAM – Organics International, 'Given that organic farmers work in harmony with nature, as far as possible, for example by not applying harmful agrochemicals, it is clear that they are a major part of the solution. As the report shows, if the global community is serious about achieving the SDGs by 2030 it is essential that we switch to more sustainable farming practices such as organic.'
Based upon more than 50 scientific publications, the meta-analysis concludes that organic agriculture can play an important role in achieving at least eight of the 17 SDGs. These include: Zero Hunger (SDG 2), Good Health and Wellbeing (SDG 3), Clean Water and Sanitation (SDG 6), Decent Work and Economic Growth (SDG 8), Responsible Consumption and Production (SDG 12), Climate Action (SDG 13), Life Below Water (SDG 14) and Life on Land (SDG 15). To learn in detail how organic agriculture scores better than its conventional counterpart on saving biodiversity, our water and health and brings resilience to farming, click here.