One year in, one year to go: Assessing Public Good delivery on farm
Posted on 30th September 2020
ORC researchers and advisors are now at the halfway point of one of their Environmental Land Management scheme: Test &Trials (ELMs T&T). Led by the Soil Association, this project is looking at the capacity of the ORC Public Goods Tool for assessing public good delivery across two different landscape areas: The Clun, Shropshire, and the Exe Valley, Devon.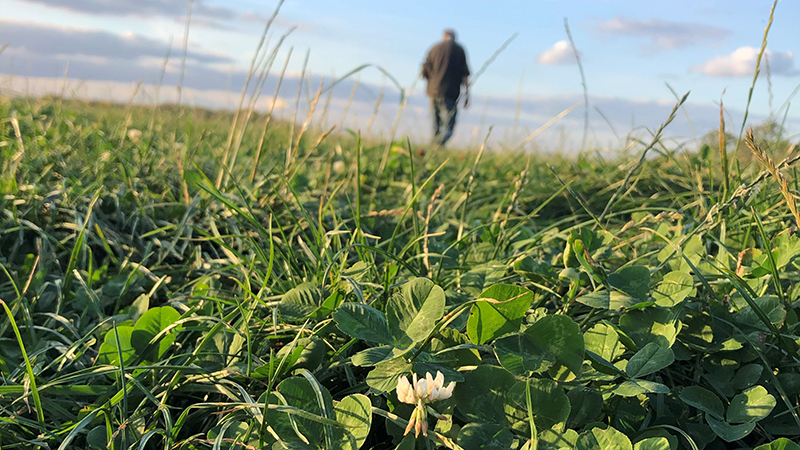 The Public Goods (PG) Tool was originally developed as an advisory tool in 2010, supporting farmers interested in identifying the public goods their farming practices deliver in a holistic manner. Tried and tested through research projects, the tool can identify current strengths and weaknesses on farm. This ELMs T&T is trialing the PG Tool in a new way to see how well the tool can assess the delivery of six public goods identified by Defra as (1) clean air, (2) clean and plentiful water, (3) thriving plants and wildlife, (4) reduced risk from environmental hazards, (5) mitigating and adapting to climate change and (6) beauty, heritage and engagement.
Throughout March, six introductory meetings introduced the project to 70 farmers in the chosen landscape areas. During these meetings, an initial survey helped identify beneficial management practices already present in the area and whether these were undertaken voluntarily. This was followed by the circulation of the PG Tool to those interested in participating at the start of June.
The PG Tool assessments aimed to identify; a) the public good delivery in each area and b) the useability of the current PG Tool as a method for assessing the delivery of public goods. We had been hoped this phase would take more of a participatory approach with on farm visits. However, due to the unexpected coronavirus pandemic this stage was moved online, and participating farmers were supported via email and telephone.
Of the PG Tools circulated 18% were returned, either partially complete or complete by the end of August. The move online and timing of the trail, coinciding with the pandemic preventing on farm visits, a stretch of very good weather and then harvest were likely to be influential factors in the low return rate. Despite this, engagement was high with 62% of participants responding to team members about the process. This phase of the project, whilst not face to face as originally intended, has provided us with useful feedback on the PG Tool and how participating farmers felt about using it. Our second round of PG Tool assessments will incorporate these changes suggested by farmers and address the level of complexity required of the monitoring questions to encourage farmer engagement yet provide sufficient detail to facilitate the monitoring of public good delivery within future ELM schemes. Alongside the PG Tool assessments, an investigation into how organic monitoring processes and other certification schemes could provide a useful resource for Defra and ELMs to monitor output delivery, was conducted and will feed into the final output of this test & trial.
Over the next 12 months this project will continue work into the development of a suite of practices selected to provide optimal delivery of public goods, an outlined action plan for each landscape that could be rolled out as part of ELMs, and another round of PG Tool assessments.
Defra's Environmental Land Management Scheme is set to be rolled out from 2024, with a national pilot starting next year. Defra envisage that the scheme will reward farmers for the delivery of public goods and ecosystem services, replacing current BPS and Countryside Stewardship Schemes. They hope uptake will be on par with current BPS participation of 85,000, as they aim to make it as accessible as possible. If you are interested in hearing more, listen to Defra's Director General Food, Farming and Biosecurity answer questions from farmers: https://www.youtube.com/watch?v=DQxjKD65VNI