Growing an organic partnership
Posted on 23rd October 2020
A unique postgraduate course in Organic Farming is celebrating its 20th year at Scotland's Rural College (SRUC).
The MSc programme, run in an online format since 2002, is delivered by SRUC in partnership with the Organic Research Centre (ORC).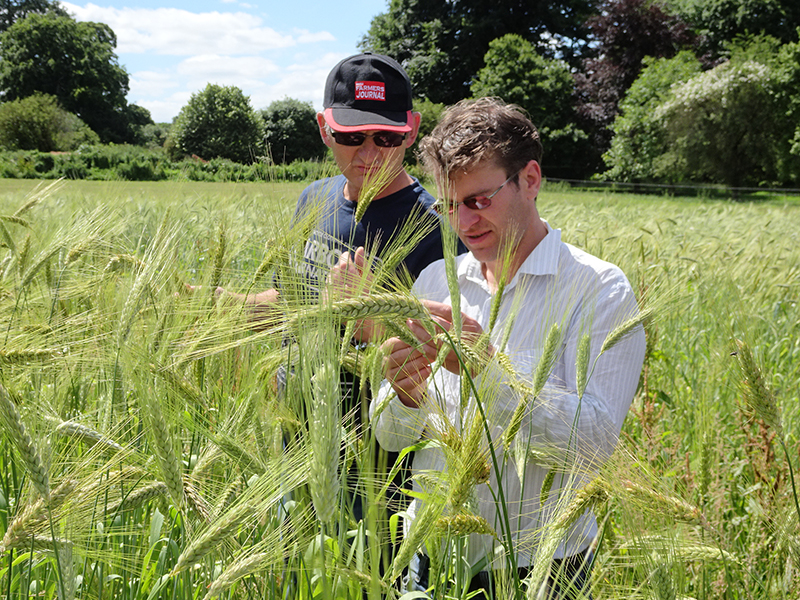 The two organisations, which are among the leading UK education and research institutions in the organic sector, have signed a further five-year term of their partnership agreement for teaching provision and MSc supervision.
The course is the only specialised MSc in Organic Farming in the UK, with well over 100 students gaining a Masters qualification since the programme's inception in 2000, and many more getting postgraduate certificates and diplomas or studying specific modules suited to their particular interests.
One high-profile former student is David Michie who now works at Soil Association Scotland.
"Taking part in the MSc Organic Farming course completely changed my career. It gave me the opportunity to do a work placement at the Scottish Organic Producers Association, which offered me a job as an Organic Certification Officer.

"From there I went on to become an Agricultural Consultant at SAC Consulting, part of SRUC, using the knowledge and skills developed from the course to advise farming clients.

"I then got a job with Soil Association Scotland, working with farmers to run field labs and am now Scotland Associate Director of Farming and Land Use."

David Michie, 2009 Graduate
The Organic Farming course covers key aspects of the technical production, marketing, and management of organic farming and food through a mix of academic learning and work experience.
The part-time, online distance learning format has proved particularly attractive to students during the current coronavirus pandemic, with 25 new students signing up for the course this year.
"Getting a high new student intake during a pandemic was an unexpected result for us, as we had been concerned that with so much uncertainty around jobs, there may be fewer applications.

"We were delighted to welcome this group of students during a virtual event in September -a first for us as we usually run live study weekends at our Aberdeen campus as part of the programme. Both new and returning students engaged well with the enforced new format, although we do look forward to meeting everyone in person when we can.

"Add this to our renewed partnership agreement with ORC, and things are looking great for the Organic Farming programme."

Dr Lou Ralph, SRUC Programme Leader in Organic Farming
"I have thoroughly enjoyed working with the students and supporting them during their PGDip, MSc in Organic Farming. Despite the global pandemic, I am delighted that the course has continued and that student numbers have grown."

Dr Lindsay Whistance, Senior Livestock Researcher at the ORC
"I have been able to continue to work well with students virtually, supporting them through in-depth discussions and exchange of ideas. I am looking forward to working with many more enthusiastic students and being part of the ORC-SRUC partnership going forward."

ORC Researcher Dr Abel Villa, who supports the students on the course
For more information about studying organic farming at SRUC, visit: sruc.ac.uk/pgorganicfarming or to learn more about the ORC, visit:  organicresearchcentre.com
Ends
For more information, contact: rosie.free@sruc.ac.uk; 0131 535 4219.
Notes to Editors:

Scotland's Rural College (SRUC) was established in 2012 through the merger of the Scottish Agricultural College (SAC) with Barony, Elmwood and Oatridge Colleges. Through these institutions, we can trace our lineage back over 100 years.
Today, SRUC is on a journey to become Scotland's enterprise university at the heart of our sustainable natural economy.
Our mission is to create and mobilise knowledge and talent – partnering locally and globally to benefit Scotland's natural economy.
To achieve this, we draw upon SRUC's longstanding strengths in world-class and sector-leading research, learning and teaching, skills and training and consultancy (through SAC Consulting).
A natural economy is fuelled by responsible use of our natural resources: people, land, energy, water, animals and plants. It is an n interlinked, shared, living system that creates opportunities and prosperity. It is multi-scale, dynamic and resilient through creative management and mindful custodianship.
By focussing on the sustainable natural economy, SRUC will strive to lead the way in delivering economic, social and environmental benefits for all, in Scotland, and beyond.
The Organic Research Centre (ORC) is the UK's leading independent organic research organisation. Established in 1980, the charity has played a central role in the development of organic food and farming research, knowledge exchange, policy and standard setting. We:
Research and develop practical, sustainable land management and food production systems
Foster knowledge exchange between researchers, producers, food businesses and related professionals
Influence policy and public debates on the future of food and farming based on sound evidence.
For more information about the ORC visit www.organicresearchcentre.com
Posted in News and events, Press Releases