Blight-resistant potato varieties
Posted on 2nd June 2015
New (and not so new) robust potato varieties from the Netherlands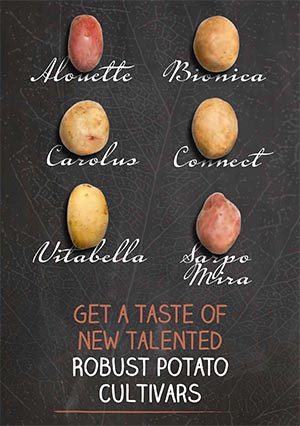 The Organic Research Centre is a partner in the Innovative strategies for copper-free low input and organic farming systems (Co-free) project. The project aims to develop innovative methods, tools and concepts for the replacement of copper in European organic and low input fruit, grapevine, potato, and tomato production systems.
As part of the project,the Louis Bolk Institute will present 6 new potato varieties at the international organic fair Biofach next week.
In the potato breeding programme Bioimpuls, the Louis Bolk Institute and Wageningen UR are working together with breeding companies and farmer-breeders to develop robust cultivars that are resistant to Phytophthora. Thanks to these new cultivars, organic growers now have more chance of yield security.
The next step is to collaborate with organic wholesalers and retailers to make sure that the new cultivars reach the shop shelves and consumers' plates. In the Netherlands, the organic market has already accepted new cultivars such as Bionica, Sarpo Mira and Carolus, but other cultivars are still relatively unknown, and additional promising cultivars will become available for the European market in the near future. Together, these cultivars will offer a complete assortment of boiling, baking and multi-purpose potatoes in various colours and shapes. The new talents are presented in this
Get a taste of new talented Robust potato cultivars (Qualitative description of the six cultivars) brochure.
See here.