New network of Innovative Farmers
Posted on 10th December 2015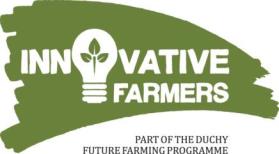 At the Houses of Parliament this morning (12 October 2015) an unprecedented partnership of farming groups launched a new network to support innovation by farmers. 'Innovative Farmers' gives farmers research support and funding on their own terms. In a world where most agricultural research happens off-farm, this puts farmers firmly in the driving seat.
The network is part of the Duchy Future Farming Programme, funded by the Prince of Wales's Charitable Foundation. The Soil Association, Organic Research Centre and Waitrose have been partners in the programme and are now joined by LEAF (Linking Environment and Farming) and Innovation in Agriculture, ensuring that the new network represents farmers and growers across the industry.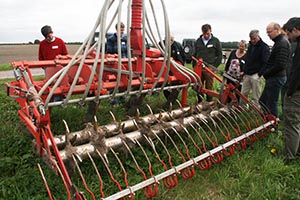 Prof Nic Lampkin, Executive Director of the Organic Research Centre, said.
"ORC are proud to continue our involvement with the Duchy Future Farming Programme and to be a member of the expanded Innovative Farmers delivery team. As with all of our work Innovative Farmers puts producers at the heart of the programme of research, innovation and knowledge exchange – this matches our core philosophy and will ensure that more farmers are empowered to work together with other farmers and researchers to build on their own innovations to improve the sustainability of their own and other farm businesses."
David Gardner from Innovation in Agriculture said; "It is crucial that we support on-farm innovation if we are to meet the challenges ahead. Conventional farmers have fewer chemicals to address their problems along with growing pest and weed resistance to those that remain. They will need to find other solutions using the tools that they do have combined with farming practices based upon sound organic principles. Finding the answers won't be straightforward, and providing a framework where farmers can explore potential solutions with their peers and experiment on their own farms can only help them find the answers."
Innovative Farmers recognises that many of the best ideas in farming come from farmers. They trial, test and analyse, often in isolation. The not-for-profit network matches farmer groups with some of the UK's best research teams, including Rothamsted Research, IBERS and Harper Adams. It provides professional support, a web portal where groups share their learning, and access to a dedicated research fund. The partners aim to award more than £800,000 to farmer groups by 2020, allowing farmers to investigate techniques that will really make a difference on the ground. The network will also help groups apply to the new European Innovation Partnership, unlocking further funding.
At the heart of the network are 'field labs', where farmers meet in small groups to test and develop new ways of tackling a shared problem or opportunity.
Tom MacMillan, director of innovation at the Soil Association said; "More than 750 farmers and growers have been involved in the Duchy Future Farming Programme in the last three years, running field labs on 35 topics. The field labs really struck a chord. We asked these farmers how we could make them even better and Innovative Farmers is the result.

"We're excited to be joined in this by LEAF and Innovation for Agriculture, so our partnership represents progressive farmers across the industry. This doesn't simply recognise that these farmers can share know-how – whether they're farming to organic, Integrated Farm Management or other principles – but that they can actually pioneer new approaches together."
The network focuses on finding sustainable answers to farmers' practical problems, from managing weeds and pests with fewer chemicals to testing more sustainable animal feeds. Field labs have already tackled topics from reducing antibiotic use in dairy farming to methods in controlling blackgrass, with farmers driving investigations. The field labs were inspired by the 'farmer field schools' that started in Indonesia, now a movement that has involved more than 10 million farmers in teaming up as groups to learn and solve problems together. The new network adapts this approach to suit the UK's most innovative farmers.
John Pawsey of Shimpling Park Farm, Suffolk has been involved since the Duchy Future Farming Programme began in 2012. He said; "I have enjoyed being a part of a group, meeting with other farmers, and sharing our knowledge. Often the field lab inspires discussion and investigation of techniques which I might not have thought about. For instance, I re-introduced livestock onto my arable farm to help with a weed problem, blackgrass, the bête-noir in our area. Some of the farmers in the group who attended the field lab meetings helped me work out how to manage the sheep in order to get the best performance from them and my crops."
As well as inviting farmers to join, the network is encouraging farm advisors to get involved as group coordinators, accessing benefits for themselves and the farmers they work with. The first 20 coordinators have already received their free training.
Professor Tim Benton, the UK Global Food Security Champion, spoke at the launch event. He commented: "Field labs are a great way for researchers to work with farmers. Innovative Farmers can help researchers understand the impact of their work. This is especially valuable when so much current investment in farming research goes off-farm, often on developing new stuff to sell farmers."
Farmers, researchers and coordinators can find out more and join the network at www.innovativefarmers.org