Soil Farmer of the Year competition
Posted on 12th November 2017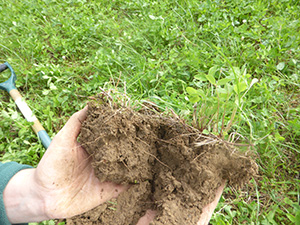 The Farm Carbon Cutting Toolkit and Innovation for Agriculture's competition to find the UK's Soil Farmer of 2018 is open for applications. Following its success over the last two years, the competition is open again this year. It aims to find farmers and growers who are engaged with and passionate about managing their soils in a way which supports productive agriculture, biodiversity, reduces greenhouse gas emissions, and builds soil organic matter.
The competition is open to any UK farmer or grower who are managing their soils in a way which optimises soil health and quality. The competition is being generously sponsored again by Cotswold Seeds, and the top three entries will all receive prizes of fertility building or green manure seed.
FCCT is delighted that this project is in partnership with 4 per 1000 Initiative. As the first project in the UK to be officially partnered by 4 per 1000, we firmly support the aims of the Initiative, and in particular recognise the enormous potential of farm soils to sequester carbon whilst providing multiple co-benefits to farmers and society.
To enter please click here: http://farmcarbontoolkit.org.uk/soil-farmer-year