Testing the sustainability of organic crop yields and rotations
Posted on 15th January 2016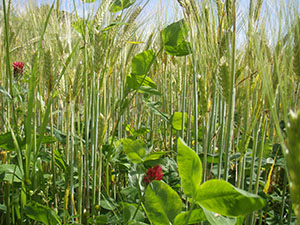 As part of Defra project OF03100, ORC assessed the sustainability of typical organic crop rotations on a range of soil types/climate zones in the UK with particular regard to nitrogen, phosphorus and potassium supply/demand.
The aim of this project was to build on previous work by assessing the nutrient balances of the Defra funded organic conversion trials held at ADAS Terrington, and Warwick University (formerly Warwick HRI) as well as other long term trials held at Elm Farm and SRUC. The dynamic model NDICEA (Nitrogen Dynamics In Crop rotations in Ecological Agriculture), developed by Louis Bolk Institute, was used to assess the N supply and nutrient balance of the trials.
The nutrient balances of typical organic crop rotations (2 x stocked and 2 x stockless) were also assessed using the site conditions (i.e. soil and weather parameters) from each of the long-term trials.
The NDICEA ouputs have compared well to recorded soil nitrogen levels across the trial sites, with relatively small errror margins. NDICEA therefore seems to be a useful tool for UK organic farmers. The modelling of typical organic rotations has shown that enough nitrogen is supplied through biological fixation to support typical organic arable yields for at least 3 years following the ley. However leaching in higher rainfall areas and on lighter soil types may prevent the N supplied from becoming available to the following crop(s). The modelling also found that organic cropping systems rely on imported sources of P (in particular mined rock phosphate) to maintain an adequate balance of this nutrient and that large deficits of both P and K are particularly apparent on stockless organic cropping.
Read the Report to Defra