'The Big Farming Survey' – RABI to deliver insight into impacts on farming people
Posted on 11th January 2021
Today (January 11th 2021), RABI launches the largest ever research project relating to wellbeing of farming people. This wide-ranging survey will consider for the first time the relationship between physical health, mental wellbeing and health of farm businesses.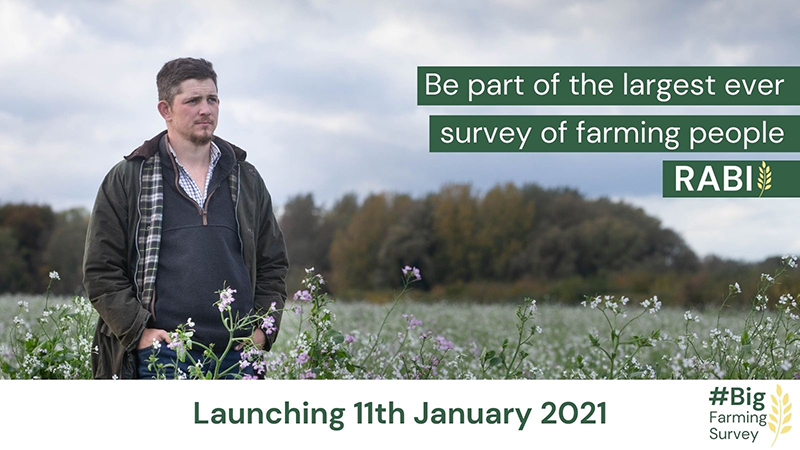 With mounting external pressures and growing uncertainty, this vital research will provide the most comprehensive overview of the farming community throughout England and Wales. It will identify the specific challenges that a generation of farming people face, as well as highlighting their adverse impacts on daily life.
With an ambitious target of gathering 26,000 survey responses, Alicia Chivers, Chief Executive of RABI is asking everyone in the sector to support the project.
"Beyond anecdotal or regional evidence, there is a pressing need for broad-scale, reliable data from our farming people. We believe there are significant issues that need to be addressed but they're not yet clearly defined.
"Firstly, we're working with organisations and businesses throughout the industry to promote The Big Farming Survey through their networks. Then, secondly, and most importantly it is down to individuals to get involved.
"By setting aside 15 minutes to complete the survey, you'll be contributing towards creating an accurate picture of farming life today. The data that's collected will enable RABI and our partners to develop effective tools and support strategies for farming people in years to come," concludes Alicia.
Conducted by the University of Exeter, the survey is open to all farmers, farm workers, their spouses and adult-aged children until 31 March 2021.
Please set aside 15 minutes to take part at http://ex.ac.uk/BigFarmingSurvey  Alternatively, request a printed copy from FarmSurvey@exeter.ac.uk