Organic at the heart: Developing an agroecological food and farming network in Northern England
Event Date : October 8, 2020
Event Time : 1:30 pm - 3:00 pm
Event Location : Online event
Virtual workshop run as part of the Northern Real Farming Conference. Hosted by the Organic Research Centre team.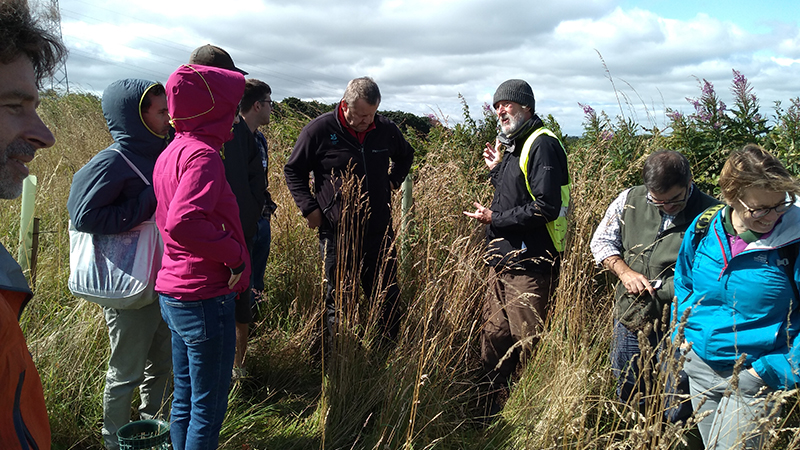 One of the key components of a transition to agroecological food and farming systems is the need to move away from input-intensive systems and towards knowledge-intensive systems. Agroecology must cover everything from food production to the protection of healthy socioeconomic relationships. This session aims to bring together interested parties from across the food and farming sector who are already practicing forms of agroecology. Our objective is to explore the establishment of a research and knowledge exchange network in the region that could grow around testing and sharing our experiences of working towards the Organic Principles of health, ecology, fairness and care in full crop-rotation economies. At the Organic Research Centre, our work is embedded in a real-life context via engagement with farmers and other stakeholders throughout the research process. We also run a knowledge exchange programme, including the wide-reaching Agricology network and platform. Working with Organic Farmers & Growers C.I.C and Newcastle University, we are hosting this session for anybody interested in being part of a collaborative network that supports the real research and development needs of the food and farming sector in the North of England.
Speakers/hosts:
Charlotte Bickler leads the Knowledge Exchange and Policy team at the Organic Research Centre, ensuring that ORC's research gets out to its key stakeholders in the best format possible. She is based in West Yorkshire and has worked as a researcher at the ORC, Kew Gardens and The University of Bristol. Her research has focused on aiming to understand how ecological and evolutionary responses can be quantified to promote their successful integration in land management for agricultural productivity, sustainability, and conservation. Most recently, working on the EU project LIVESEED, she has studied the application of evolutionary breeding within organic systems and developed an on-farm organic variety testing network (now a Defra-funded project, LiveWheat) with her ORC Crops Team colleagues, Organic Arable and a group of participatory farmers. She has also coordinated Knowledge Exchange and on-farm trials of crop mixtures as part of the EU project DIVERSify. She hopes her work contributes towards bridging the gap between knowledge development and its application and use in a practical setting.
Amelia Magistrali is a post-doctoral researcher at Newcastle University who has spent the past five years assessing the potential of and developing supply chains for alternative grain production in North East England. As a PhD researcher, Amelia studied spelt and rye variety performance with alternative fertilisers as part of the EU HealthyMinorCereals project and the Defra Sustainable Intensification Platform. Amelia currently works with Coastal Grains Ltd (coastalgrainsltd.co.uk/), a grain co-operative in Northumberland, on a Knowledge Transfer Partnership to develop supply chains for novel grain production. Through the project, she works with farmers to trial commercial production of spelt, buckwheat and rye varieties, which has resulted in a well-established supply chain for regional spelt production and additional avenues for buckwheat and rye in the UK.
Steven Jacobs has been working in food and farming for 30 years, starting in market gardening and moving through farming to retail via catering. Following work with the Permaculture Association, the Co-operative Wholesale Society, Fresh & Wild (now Wholefoods Market) and Essential Trading Co-operative, Steven joined Organic Farmers & Growers in 2007. Steven represents OF&G on a number of roundtables, forums and working groups: Agricology, IFOAM EU, the NFU Organic Forum and the Agriculture Working Party of Sustain: the alliance for better food and farming. Steven is the founder and coordinator of the annual organic farming conference, the OF&G National Organic Combinable Crops, also known as NOCC. Steven chairs the Welsh Grain Forum and also sits on the steering committee for the Wales Real Food and Farming Conference – WRFFC / Cynhadledd Gwir Fwyd a Ffermio Cymru – CGFFfC and Food Manifesto Wales.
Janie Caldbeck co-ordinates, creates and edits the content (ranging from a library of resources to videos, blogs, podcasts and farmer profiles) held on the Agricology website, working closely with researchers, farmers and others from within the industry to make it a valuable knowledge hub for sustainable farming practices. She holds a Masters in Creative Writing and a BSc Hons in Horticulture for which she specialised in ethnobotany (global plant use) and science communication. She has conducted research in a range of areas including CO2 emissions in relation to drainage of peatlands, the use of biochar as a soil management tool, building fertility using clover and legumes, medicinal uses of trees, and ways in which trees can be integrated into farms and farming practices. She previously worked as a technical writer alongside the ORC research and information teams (on the LegLINK and OSCAR projects), the Institute of Organic Training and Advice (IOTA), and partners on the on-line Ecofarming information hub. She works remotely for the ORC, based at her home near the infamous Barnard Castle in Teesdale, Co. Durham, on the edge of the north Pennines.
MORE INFO
REGISTER