Future sustainability of organic and low-input milk production
Posted on 12th April 2015
Future sustainability of organic and low-input milk production: Challenges and solutions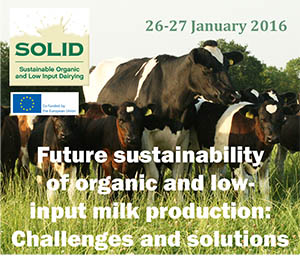 Bristol will host an important dairy farming conference in January (26-27) at which the results of a major European project on Sustainable Organic and Low Input Dairying (SOLID) will be discussed.
The conference will focus on providing practical strategies for implementing project findings on farms. How can we improve dairy cow health and welfare whilst reducing antibiotic use? Can we reduce the protein levels in the ration and increase our milk from forage? How can dairy cow breeding and fertility influence the productivity and product quality in organic/low-input systems? These questions and more will be discussed by farmers, researchers and advisers.
Mark Measures, Director of the Institute of Organic Training and Advice (IOTA) said: "The conference provides a unique opportunity to hear leading international speakers presenting results from the 4-year SOLID research project and join with fellow organic, pasture-fed and low-input dairy farmers in discussing the way forward for dairy cow management in these systems."
Novel practices on reducing drug use at the farm level and enhancing animal welfare will be presented, including Christine Gosling of Berkeley Farm near Swindon, talking about how through working with researchers, vets and other farmers in a 'field lab' they have become more confident in how they are able to reduce antibiotic use. Trace elements will be under the spotlight – can they be too much of a good thing? How can we provide both conventional and organic dairy cows with optimum mineral levels for animal health and product quality?
Does the breed choice matter? Can livestock be bred to be adapted for optimum productivity in organic and low-input systems? The conference brings together leaders in breeding research from UK and Europe to talk on how contrasting genotypes adapt to organic/low-input conventional systems and on the role of fertility for promoting the genetic potential of a herd.
AHDB Dairy research shows that it is possible to maintain healthy and productive cows on 14% protein diets with maize, but is it possible to do the same without maize? What protein sources should be used? Can we achieve protein self-sufficiency? What other ways are there to improve digestion and operate successfully with low protein rations? Interesting results are coming out of Finland where organic farms produce high milk yields and achieve a high degree of self-sufficiency without soya, by feeding home grown cereals and oilseed rape, processed on farm. The role of multi-species leys for yield and resilience will also be discussed.
The SOLID conference runs together with the Organic Producers' Conference, to be held at the same venue on 27-28 January. More information at http://tinyurl.com/ORC-SOLID
ENDS
Notes for Editors
The Sustainable Organic and Low Input Dairying (SOLID) project will be holding this workshop which is jointly organised and supported by ORC, OMSCO, Aberystwyth University and AHDB Dairy.
SOLID is a European project on Sustainable Organic and Low Input Dairying financed by the European Union. The project has 25 partners from 10 European countries and runs from 2011-2016. It is coordinated by the Institute of Biological, Environmental and Rural Sciences at Aberystwyth University. The project aims to improve the technical performance and economic competitiveness of organic and low-input dairy systems in Europe, while maximising their potential to deliver environmental goods and enhance biodiversity.
The Organic Research Centre based at Elm Farm near Newbury is the UK's leading independent research centre dedicated to the development of sustainable food systems based on organic/agro-ecological principles. Further information on our activities can be found at www.organicresearchcentre.com
For more information please contact:
Konstantinos Zaralis
For photos, case studies and to arrange interviews or request a press pass please contact Phil Sumption
Posted in News and events, Press Releases, Research