Farm Crap app wins Innovation Award
Posted on 18th October 2014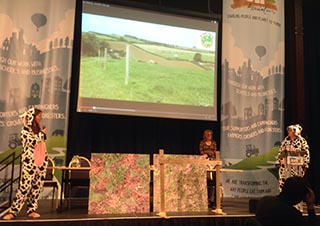 Innovation Award
The Innovation Award celebrates pioneering ideas in farming and growing across the UK. The award focuses on innovation that benefits the environment, health or animal welfare. Following two rounds of very lively debate and voting from delegates at the Soil Association Annual Conference in Swindon (8-9 October), students from the SWARM Knowledge Hub, a project at Duchy College's Rural Business School, were awarded the 2014 Soil Association Innovation award for 'The Farm Crap App', a mobile app which allows farmers to proactively plan nutrients applications and farm more profitably and sustainably, winning £2000. The Innovation Awards, part of the Soil Association's Duchy Originals Future Farming Programme, of which ORC is a partner, rewards excellence in innovative approaches to sustainable, low impact farming and growing.
Dr Stephen Roderick, project manager at Duchy College Rural Business School said "This is a great new development, providing farmers with a very practical and easy-to-use tool that could have real benefits and also continuing our core work of converting research and development into practical advice and information for the farming community. Technology like this can make a real difference to the efficiency and overall profitability of farms."
Based on data from Defra's RB209 Fertiliser Manual values for crop available nutrients and the industry produced publication Think Manures, the app allows users to calculate crop available nitrogen, phosphate and potash and see what the manure will provide in terms of fertiliser value. The app is available on Android and Apple smart phones, and can be used in organic and non-organic systems alike to help solve the longstanding challenge of manure and slurry management.
Becky Willson, SWARM Hub Information Officer commented, "We are delighted to have won. The competition was of a very high standard and we were up against some great innovations. We hope that this will help us spread the word and get even more farmers and growers to use the app and realise the nutritive and economic value of their manures."
Tom MacMillan, Director of Innovation at the Soil Association said, "The Soil Association's Innovation Awards celebrate people with the vision and persistence to help farming and growing thrive in the face of climate change, resource pressures and a host of other challenges. We must work together to share pioneering, practical ideas like this that are good for farmers and the environment ."
The runners up were the Bee Brick and the Cycling Veg scheme. The Bee Brick provides a nesting site to support the declining solitary bee population and is designed to be an integral part of new build projects. It sits alongside current green systems such as solar panels and rainwater harvesting, with the dual function of being a construction material that also promotes biodiversity. The Bee Brick was praised by delegates for its innovative approach in linking urban environments with conservation and farming.
Cycling Veg is a bicycle delivery service which supplies British organic produce within the urban environment. A small food enterprise with big ambition, the service is run by students and offers job opportunities to young people while also benefiting elderly and disabled people who are less able to access farmers markets or veg box pick up points. By using recycling crates from restaurants, wholesalers and market, the initiative is virtually packaging-free. Delegates voted for Cycling Veg because of its synergy with other initiatives such as farmers markets, its potential to create employment opportunities and its ability to be replicated in many urban areas- taking the veg box delivery service to the next level.
The top three entries will also be put to a public vote this weekend and the winner will receive a £1,000 cash prize. Details of all the finalists can be found : here
More on the Soil Association Conference, including audio here, and Organic Awards 2014