ORC at the National Organic Conference
Posted on 27th July 2023
Over 200 delegates attended OF&G's National Organic Conference at Mark and Liz Lea's Green Acres Farm in Shropshire on the 4th July 2023. Throughout the day, speakers repeatedly emphasised the importance of developing close working alliances with like-minded businesses and organisations to bring lasting change and greater equity to the sector.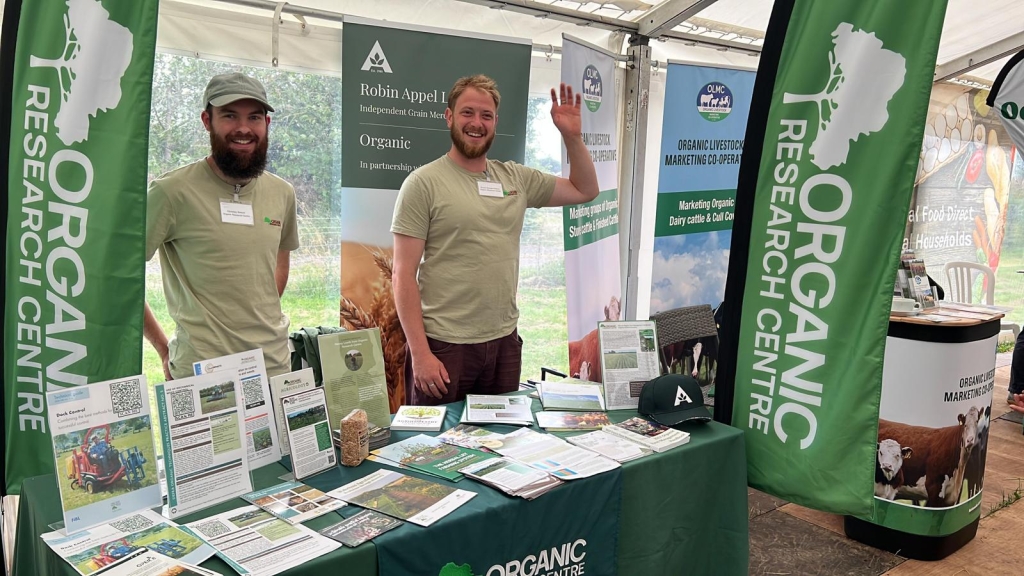 The conference was chaired by Ben Briggs, editor-in-chief at Agriconnect. OF&G's CEO Roger Kerr introduced the day and emphasised the need to farm organically and to look for transformational change to be resilient; "21st century farming must focus much more on soil health, which represents a huge untapped opportunity," he said. Organic faming can deliver on many different levels – energy use, biodiversity, soil protection, nitrates, carbon and net zero targets. The IFOAM International Organic 3.0 strategy confirms organic as a modern innovative farming system that integrates ecology, economy, society, culture and accountability.
Host Mark Lea has been organic for 23 years. "It was stable for the initial 10 years, then there has been lots of change. Our focus on the soil and the way we learn has helped. We are immensely proud to be organic and of the food we produce. The faith we have in organic is so strong and we love to share it with all."
Garethe Hughes explained the importance of Open Food Network's open-source software platform for building a fair and transparent route to market for over 2,000 producers and 200 food hubs in the UK.
Stephen Briggs presented the 'Climate Farm Demo' project, a seven-year pan-European project led in the UK by Innovation for Agriculture and Abacus Agriculture, which aims to establish a network of 1,500 climate smart organic demonstration farms, with 130 based in the UK. Stephen called for organic farmers to join the Climate Farm Demo Network. There are opportunities to get free supported advice, assessments and practical solutions for application on farm. More info here. Stephen also introduced Horizon Europe's Climate Smart Advisors project which runs from now until 2030 and looks to train, improve and share best practice between farming advisors across Europe. Innovation for Agriculture is the national coordinator for the Climate Smart Advisors project in the UK. In total, 36 advisors will be recruited and trained, who will support the farms taking part in the Climate Farm Demo project with climate-proofing their businesses.
A panel session with six members of the UK Grain Lab (Organic Research Centre's Dr Charlotte Bickler, Dr Edward Dickin from Harper Adams University, OF&G's Steven Jacobs, organic farmer John Turner and Josiah Meldrum, co-director of Hodmedods) illustrated how a partnership between researchers, food producers, wholesalers and bakers are bringing about legislative protection for genetically diverse cereal varieties.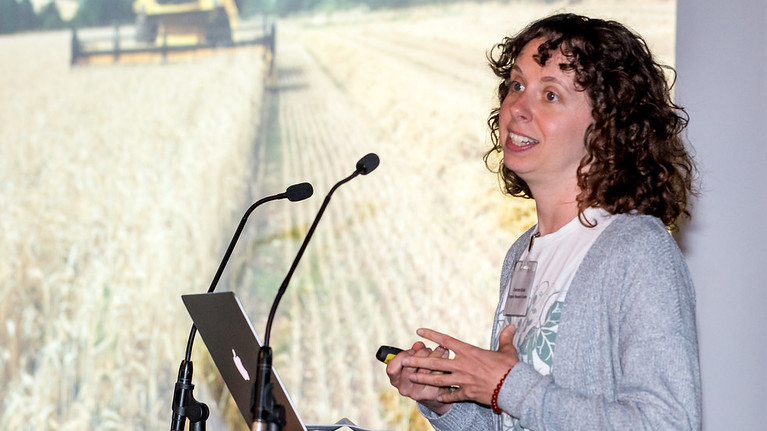 "One challenge is that the variety is used for the identity and we need to find ways to work around that. And that really comes down to us working together to understand how we can do that. What we've observed is with more genetically diverse crops, we see the increasing importance of the context that they've been grown in. The processes that support that need to be understood and documented as best as possible. We need to build in bottom up (from the farm) rather than top down approaches."

ORC's Charlotte Bickler talking about the challenges of the current marketing legislation around populations and heterogeneous varieties.
Joel Williams (Integrated Soils) gave the keynote presentation on 'Companions, nitrogen and soil health.' He explained the benefits and challenges of companion cropping and how it can help improve nitrogen transfer and efficiency: "pick the right varieties for the system rather than shaping the system around the genetics."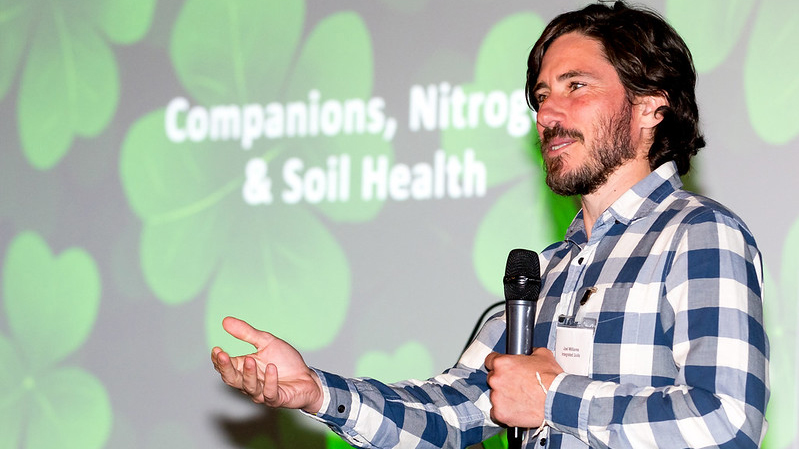 "Try thinking about nitrogen use efficiency in a different way. Rather than think how much nitrogen did I put on and how much did the plant take up, think how much biomass can I grow with this amount of nitrogen."
Joel showed some amazing results from living mulches, with trials of white clover living mulch "expediting soil health regeneration compared to other treatments." This is very relevant to ORC's work on living mulches.
"Legumes are prime candidates for use in intercropping systems as they fix Nitrogen and scavenge a broad spectrum of other nutrients from soils. There is good evidence about the benefits of companions but field conditions can make it a tricky system to adopt."
"There are pathways that legumes can share N with when no legume companion in the field. Root exudates from the legumes can be taken up through root structures of the non legume plants."
"Amino acid forms of N can also be absorbed through mycorrhizal relationships between the companion plants. Without close root intermingling there will be reduced uptake through exudates, varieties with a deep root structure can help combat this. Deformation triggers the release of C and N exudates – cultural approaches such as inter-row mowing can help stimulate this. Exudates are released early in the plant life cycle, adjusting plant spacing can help to create root intermingling at this early stage."
"Practically speaking, the more legumes we can get in to pastures and arable rotations the better. There are challenges year to year, but the diversity adds resilience and to soil health and function."
The morning programme concluded with a presentation to the winner of the Organic Research Centre's Young Organic Farmer of the Year award for 2022/2023.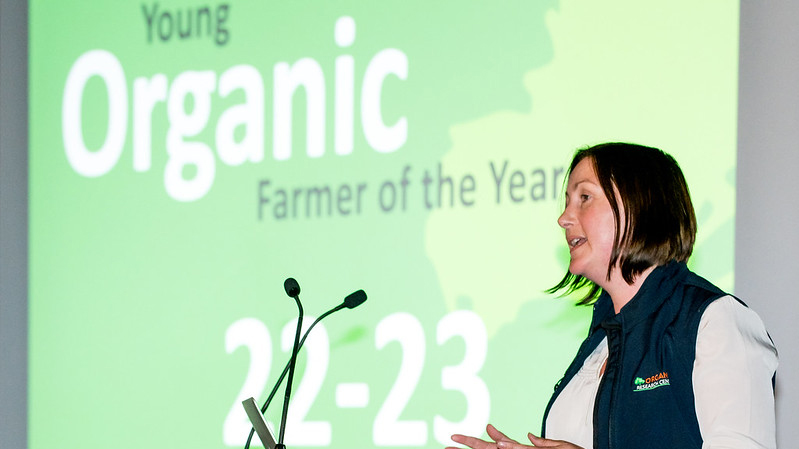 After a sensational organic lunch prepared by local, family-run restaurant CSONS, delegates were given a guided tour of Green Acres which runs a five-year arable rotation and 200 New Zealand Romney ewes.  This included seeing 21 milling crop trials, 'living mulches' and a woodland creation project, which were run in conjunction with ORC, Organic Arable and the Woodland Trust. Each of these projects focusing on enhancing biodiversity, increasing resilience to pest, disease and climatic risks.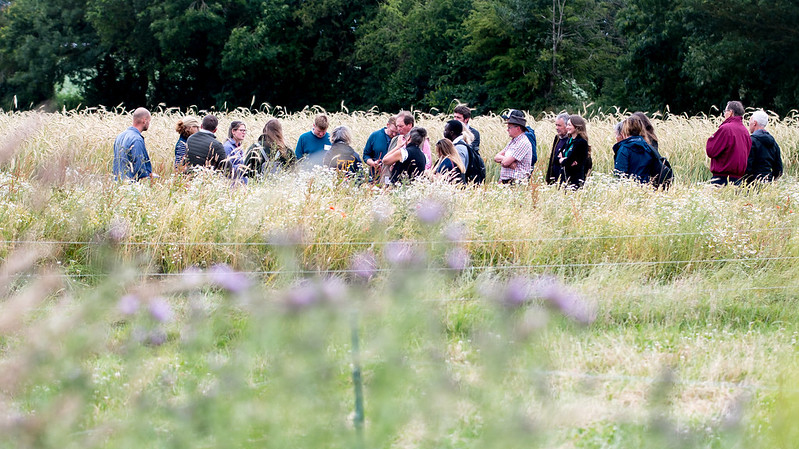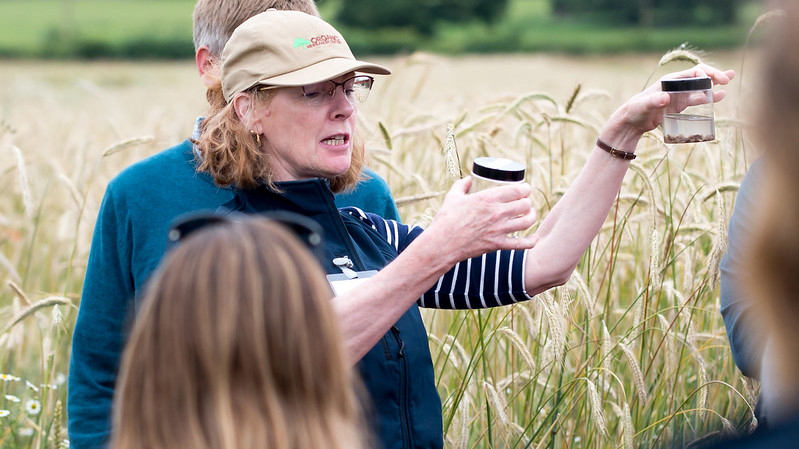 A demonstration of the Lea's on farm grain cleaning and flour milling processes revealed how localised supply chains were able to connect more closely with UK farmers.
At the close of the conference, Mr Kerr said that feedback from delegates had been incredibly positive.
"This year's NOC has been a huge success. Through a range of insights and solutions all our speakers and the host farm have demonstrated how the organic community is unified to deliver significant change, whether through local networks or as part of wider European initiatives.
"It's been immensely positive, and we look forward to delivering NOC 24," says Mr Kerr.