Soil Farmer of the Year competition launched for the second year
Posted on 12th May 2016
The Farm Carbon Cutting Toolkit and Innovation for Agriculture's competition to find the UK's Top Soil Farmer of 2017 is open for applications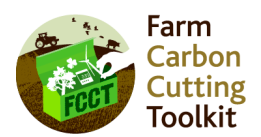 Following the success of the competition in 2016, which was its inaugural year, the competition is being run again this year. It aims to find farmers and growers who are engaged with and passionate about managing their soils in a way which supports productive agriculture, biodiversity, reduces greenhouse gas emissions, and builds soil organic matter and carbon.
Sustainable soil management is one of the cornerstones of profitable farm businesses, a thriving and diverse natural environment and a transformation to a low carbon economy. Soil health is of critical importance to everyone and this competition champions farmers who understand the importance of soil, and are changing their management to protect and improve it.
The competition last year attracted farmers to apply who collectively were managing 7603ha, and were involved in a variety of enterprises on-farm. After a tough application and judging process, the accolade of Soil Farmer of the Year was awarded to Clive Bailye, an arable farmer from Staffordshire, with Iain Tolhurst and Jeremy Dale being awarded 2nd and 3rd places.
Clive explains, "Winning the Soil Farmer of the Year competition was a nice recognition of the efforts and change we have undergone in our farming business, whilst trying to make it both financially and environmentally sustainable. Confirmation from others that you may not be mad and might actually be pushing on in the right direction is always nice to receive! The process of entering the competition and being judged provided an opportunity to look back and assess what has been achieved to date, and the prize of the cover crop seed from Cotswold Seeds will, I'm sure, be another useful addition to the carbon in my soils."
"The success of the first Soil Farmer of the Year competition exceeded our expectations", explains FCCT director Jonathan Smith. "It was inspiring to read so many farmers and growers tell us what positive things they were doing for their soils. Judging it really was a difficult process, due to the high quality of entries. We're hoping even more farmers and growers will want to compete for this prestigious prize this year. For FCCT it firmly places us as a champion of good soil management on farms."
The competition is open to any UK farmer or grower who are managing their soils in a way which optimises soil health and quality. Applications are being taken online through this link www.farmcarbontoolkit.org.uk/soil-farmer/614, where there is more information and an opportunity to read the write-ups of the three winning farm walks from 2016. The competition is being generously sponsored again by Cotswold Seeds, and the top three entries will all receive prizes of fertility building or green manure seed.