The Spring Bulletin No.131 is out!
Posted on 30th April 2020
The Spring issue of the ORC Bulletin (131) is at the printers and will mail out to subscribers and supporters soon!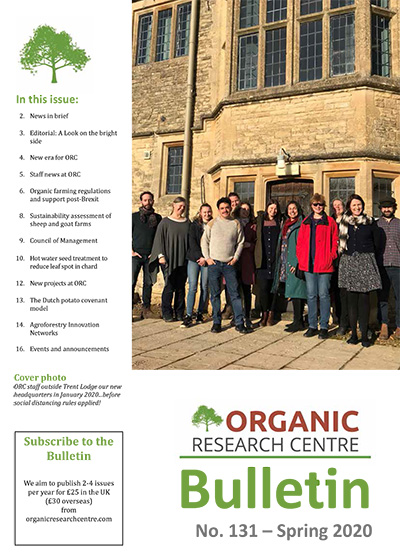 Bulletin 131
Included in this issue:
Editorial: A Look on the bright side
A new era for ORC
Organic farming regulations and support post-Brexit
Sustainability assessment of sheep and goat farms
Postgraduate organic farming students at SRUC: past and present
Staff and Council of Management changes
Hot water seed treatment to reduce leaf spot in chard
New projects at ORC
The Dutch potato covenant model
Agroforestry Innovation Networks
The Winter 2019 issue No.130 is now also available for free download here.