ORC at the Organic Growers Gathering
Posted on 27th October 2023
We recently attended the Organic Growers Gathering, hosted by Tolhurst Organic CIC, one of the longest-running organic farms in the UK renowned for pioneering, ethical stock-free organic standards. The official parters of the Gathering were the Organic Growers Alliance, Vegan Organic Network, Organic Farmers & Growers and Hempen Organic. Set in the beautiful Oxfordshire countryside, by the River Thames, the weather was kind to the 180 people who came to network, skill share, build community, discover, and learn about organic growing.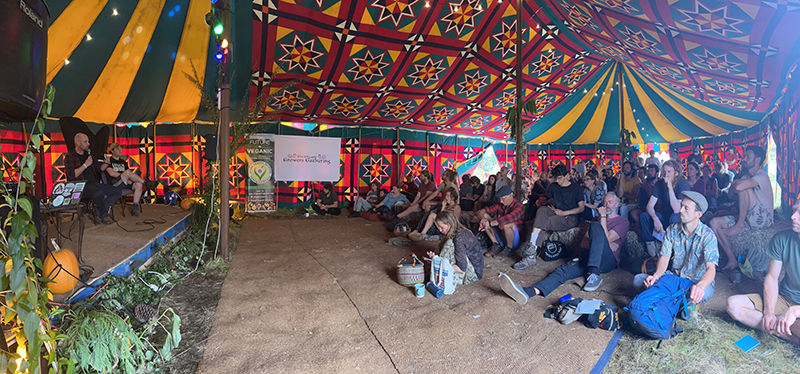 Organic Farm Management Handbook launch
We were able to launch the Organic Farm Management Handbook, freshly off the press. Mark Measures, who edits the Handbook with Nic Lampkin and Susanne Padel gave an overview of what the Handbook provides for growers. Potatoes plus 13 vegetable crops are included, and strawberries, apples and pears. Mark said: "We provide yield information and prices, which we try to base on what we think the current prices are, and whether any major changes are likely in the next 12 months. But it is inevitably speculative. With yields, however, because we've been collecting data for 20-25 years we're getting much more reliable data. It's a means of providing information for farmers to compare, benchmark their own results, and to help them with budgeting so that they can do some long term planning with a bit more reliable information.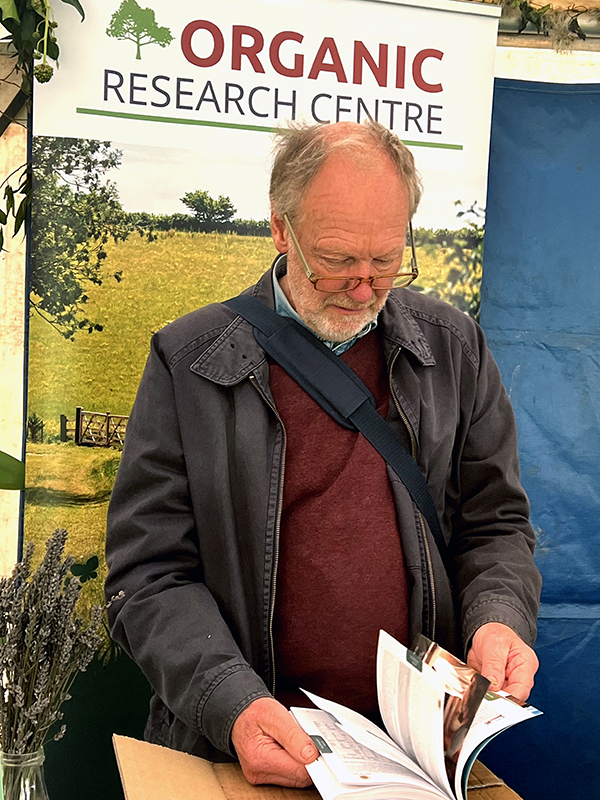 "Perhaps the most useful thing in it is the sensitivity analysis; this is where you can try to bring your individual farm circumstances to what you might expect your yields to be. In the last edition, I tried to collect some data for smaller growers, because often the yield data the price data is very different from some of the field-scale vegetables, for potatoes, carrots, onions, and so on. And this just picks up on some of the yields from smaller, more intensive growers and the prices that they're getting. But you can see there are some gaps. So, I think we need to find better ways of data collection, not getting too bogged down in the detail. And perhaps some some sort of links between the OGA and Organic Research Centre."
The Handbook is not just about gross margins and costs. It contains useful information on the ever-changing landscape of grants and support mechanisms. In England, Mark explained: "You can actually get some reasonable support. Although for some smaller growers, it may be difficult to to make best use of these, there does seem to have been some relaxation. And as I understand it, now, they have removed the minimum size requirement, but they require a minimum grant payment per year, which I think is £500 per applicant. So (grant support for growers) is more available now than it was historically."
Discussion ensued on what growers needed from a Handbook, and whether a dedicated Handbook for market garden crops would be the Holy Grail.
Young Organic Farmer/Grower of the Year
Mark Measures is one of the Judges of ORC's annual Young Organic Farmer/Grower of the Year competition, which opens for entries this November. "It's a great award. It's, it's enough money to be to be worth going for," Mark said. As a judge he said: "it's a very onerous responsibility, judging, growers and farmers. But, we are very clear that we're looking for growers and farmers who really understand what, what organic farming is about. And so we refer back to the IFOAM principles of healthy ecology, fairness, and care. At least that they're able to demonstrate that they're applying those ideas in practice. They have to be technically very competent and productive and doing a good job. Innovation and leadership are also important."
"ORC are looking for applications for next year's award, so if you are interested or can suggest somebody suitable, please do."
For more information or to express interest please email: YOFY@organicresearchcentre.com
Living mulches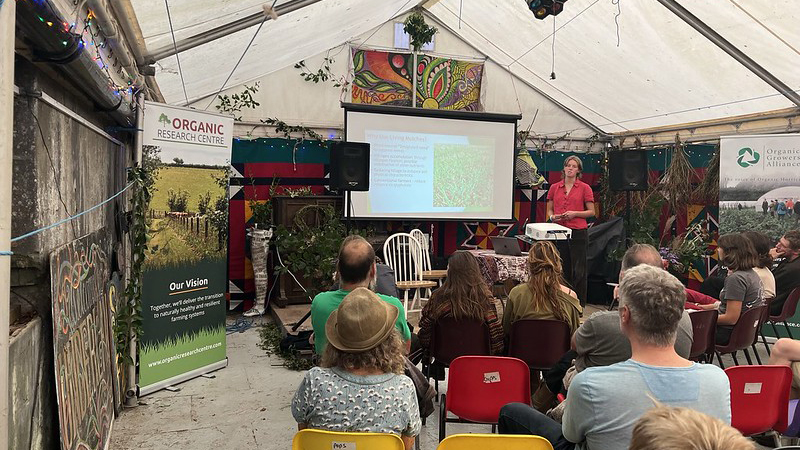 Isabel Mackintosh of ORC outlined the work on living mulches, initially through Innovative Farmers, but now funded through the Elizabeth Gilmour Charitable Foundation and Organic Arable. The definition of living mulches is a perennial cover crop that is well established at the time of cash crop planting, for example a white clover sward with winter wheat direct drilled into it. "For organic farmers, it's a system which allows for less intensive tillage, which saves on labour costs, machinery wear and tear and fuel. So, living mulches protect the soil, which is important for mitigating climate extremes, which is obviously going to become much more important. It increases the soil biology and biodiversity both above and below the ground. It's a self regulating system so it reduces pests and disease, and acts as a green manure, which improves the soil structure and the nutrients within the soil."
Most of the work has been in organic arable systems. It has not been without challenges, and though there can be a yield penalty of up to 40% as the clovers compete with the crop, inputs are reduced and it enables the rotation to be extended with extra nitrogen for subsequent crops. Isabel explained that they are now looking to expand the network and would like to include horticultural growers in the network. Future work will include a literature review, crop modelling and looking at carbon and nitrogen dynamics in the living mulch system. If you are interested email: isabel.m@organicresearchcentre.com
Dean Organic Fund
Philippa Hall introduced the Dean Organic Fund to the gathering. After some background to how the Dean Organic Fund came about, Philippa explained how ORC came to take on the administration of the Fund in 2018. " We will take applications between £5,000 and £25,000 for loans, and that can be for it can be for stock, for training, for transitional leads, equipment, but it can't be for short term cash flow issues. It is unsecured so there is nothing against it. You have a year free as in you don't need to pay for a year."
Reboot Organic
Lawrence Woodward launched the campaign to Reboot Organic. "It's very fitting that we're (launching this campaign) at this event with you. Because if you look at the history of the organic sector, organic growers were always at the radical edge of the organic movement. And when the organic movement was reformed, or regenerated in the late 60s and 70s, the organic movement was a radical movement .for real change. And right through the 80s organic farmers, organic growers and organic citizens came together in the belief that we can create a farming and food system that drove fundamental change in society. All of us believed that then and we believe it now.
"What we're setting out to do is to reaffirm organic – to reaffirm the achievements of organic farming, organic growing, organic food and the organic movement – to reaffirm its values and its potential in tackling, delivering and developing alternative equitable sustainable systems in food and farming and ecosystems on a planet of finite and diminishing sources. We're setting out to reclaim organic as a movement for change, and not a greenwash marketing niche. We're setting out to build on the successes in the field, in the farms, in processing, and in the market to become again a driver for change, showing how and building the way from where we are now, to where we need to be if we're going to have a civilised and equitable society, within planetary boundaries.
"We're setting out to renew organic, to learn from the experiences of organic farmers, organic growers, processers, retailers, citizens over the last decades and improve, improve our performance and functioning of the organic system in line with the entire scope of organic principles of health, ecology, fairness, and care."
Why is it needed? Lawrence continued. "Over the last 50 year, in the face of great opposition from the mainstream, organic farming has kept going. Organic farming has led the way in addressing these crucial issues of how we feed ourselves and how we live. (Now) the organic approach is being denigrated, and systematically sidelined in agriculture and food policy, in nature conservation, in broad environmental matters, and in food quality and health by organisations and individuals who should be its supporters. It's not being promoted, it's not being given the necessary development assistance to continue to fulfil its potential in addressing the pressing problems facing our society and world."
"What's happening instead is a whole plethora of single issue initiatives, and terminologies and foreign practices that claim that they're addressing these problems; sustainable farming, conservation farming, regenerive farming, pasture for life, nature-friendly farming, etc."
"The fallacy that fundamental problems can be addressed by minor changes in production practice. And the appeal of simple messaging by single issue and narrow focus groups, has led to a high profile for those initiatives and critical support to superficial claims of environmental friendly farming practices. And this has led directly to unjustified criticism of organic farming, from those people who should be natural allies, and in other countries are our natural allies."
"The problem is that organic is not being given its due credit, (which has) led directly to the neglect and failure to promote organic farming. And this is leading to lamentable consequences in terms of policymakers, withdrawal of policy support, now affecting farm businesses, in terms of income, and in terms of the market. There's an urgent need to raise the profile of organic and ensure organic businesses remain financially viable. But crucially, and this is the real point, the principles of the organic movement, the vision that you represent, and the proven practices they give rise to must be at the heart of our farming and food system. If we are going to find a way of living equitably, and healthily in an ecologically sound way on this planet of finite and diminishing resources. We don't just believe that the vision that the health of soil, plant animal, people and planet is just a cliche, we believe it. And we believe that everything that flows from that places organic food and farming at the heart of a transformation of society." For more information or to sign up contact: rebootorganicUK@gmail.com