Two ORC staff recognised
Posted on 18th February 2016
Two Organic Research Centre staff recognised for their contribution to UK Agriculture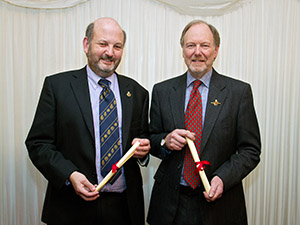 Nic Lampkin and Mark Measures
Nic Lampkin and the Duchess of Wessex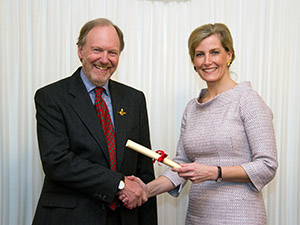 Mark Measures and the Duchess of Wessex
Nic Lampkin, Director of the Organic Research Centre near Newbury, and Mark Measures, Director of the Institute of Organic Training and Advice (a Division of ORC), have both been recognised for their contribution to UK agriculture by the award of Associateship of the Royal Agricultural Societies.
The Awards recognise the contribution of many individuals to agriculture and related research in the UK, with specific mention made in these cases of their contribution to research, advice and policy development for organic farming.
Nic Lampkin said: 'We are very honoured to have received this recognition, but it is also recognition of the role that organic farming now plays in UK agriculture, and of the efforts of the whole team at the Organic Research Centre to apply research and evidence to the sound development and communication of organic and agroecological approaches to agriculture.'
The Awards were presented by the Duchess of Wessex at a ceremony in the House of Lords on 10th February 2016. Associateship and Fellowship Awards are made annually by the Council for Awards of Royal Agricultural Societies on behalf of the four Royal Agricultural Societies in the United Kingdom.
ENDS
Photographs supplied by the Council for Awards of Royal Agricultural Societies available as high res images from ORC, showing Nic Lampkin and Mark Measures individually receiving their Awards from the Duchess of Wessex, and together after the event.
Further information on the awards can be obtained from the Secretary, Prof. Malcolm Stansfield, on 07778 852853 or jmscopynook@gmail.com.
Further information on the work of the Organic Research Centre can be obtained from Nic Lampkin or www.organicresearchcentre.com
Posted in News and events, Press Releases, Research